[ad_1]

These paper doll coloring pages are fun to design and craft on your own! They make a fun craft for teens and for kids. This post contains affiliate links.
---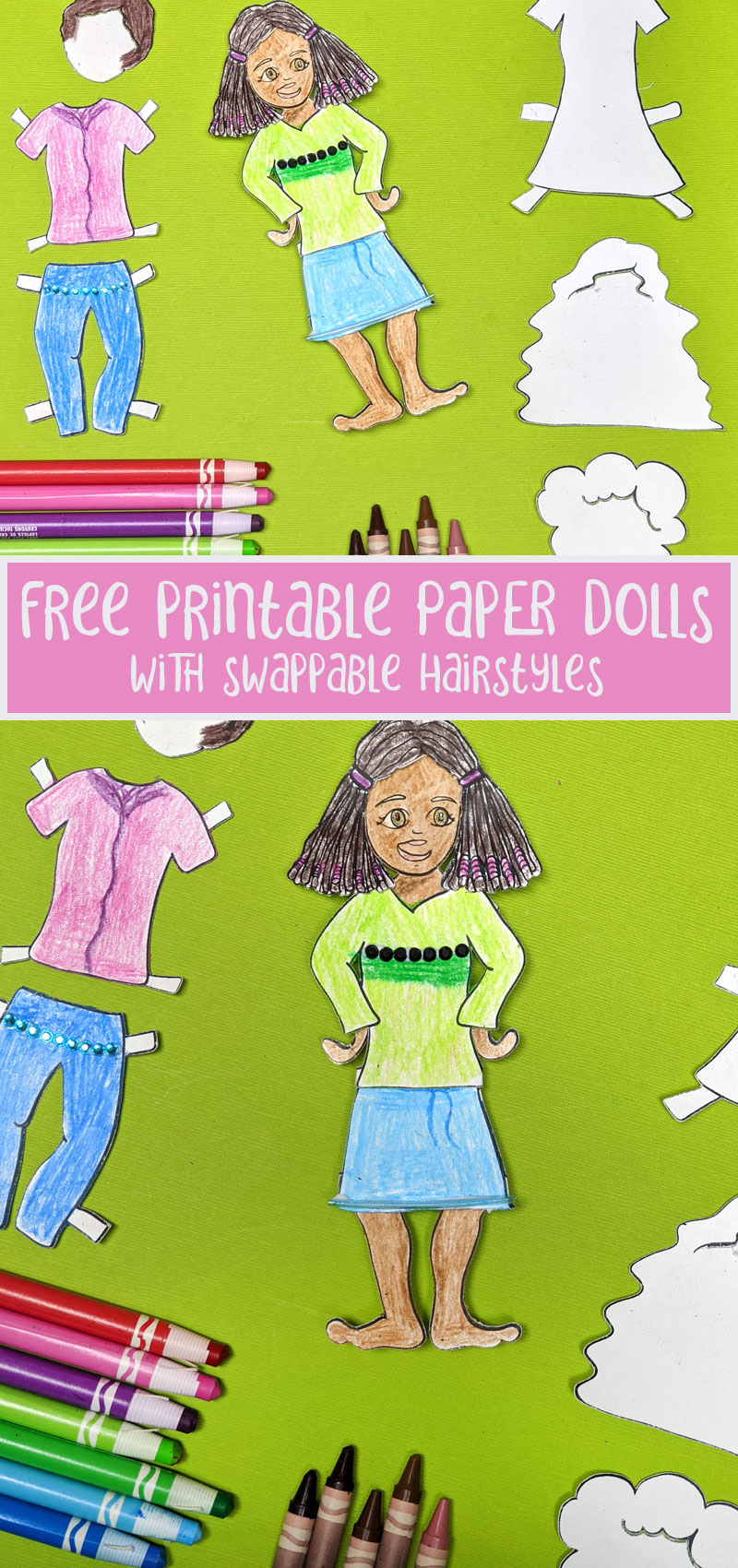 I'm at this brutal stage in life that is so full of blessings that when I say "I'm gonna publish this post on Monday" I'm lucky if I get it out the same month…
And so my heart pounds each time a project that was postponed FOREVER finally goes out.
These paper dolls are a winner and came out better than I had planned.
Skip to the part you want, or scroll down for more details about the paper doll coloring pages!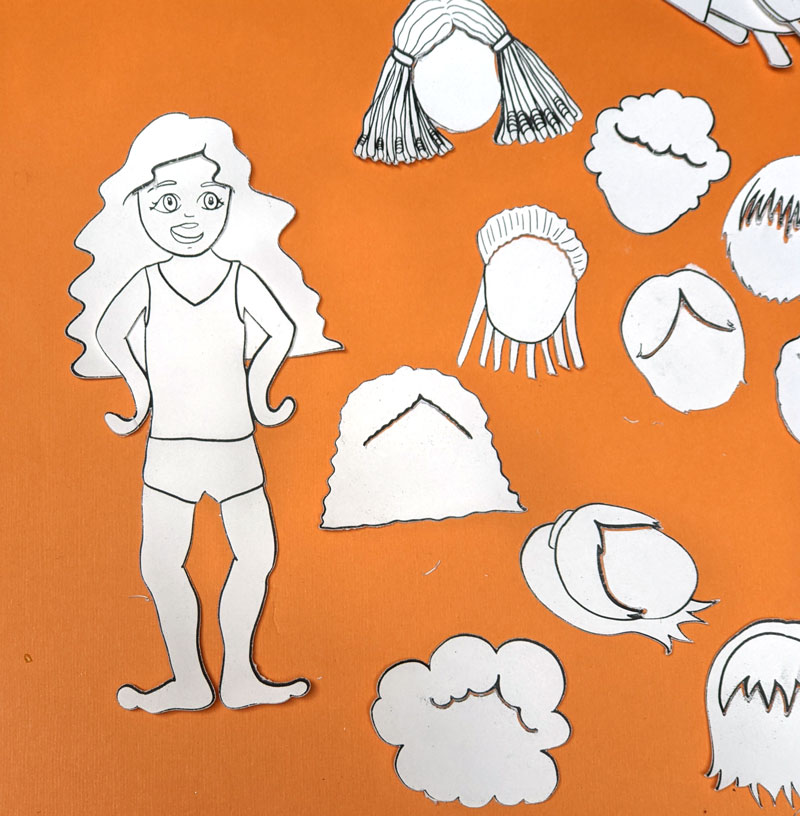 Over the past year+ I put out four "seasonally appropriate clothing" dress-up paper doll coloring pages.
I had originally planned for it to be a simple free printable craft, but it entailed so much work that I had to put it out in four batches (as the seasons arose) and actually charge a few bucks for it.
But I still wanted to offer paper doll coloring pages for free, so I finally created a "design your own" version that is a FREE PRINTABLE for blog subscribers. It wasn't exactly a quick and easy design, but by now I got my flow going and so after a full week of working around my little princess's nonexistent schedule, I'm finally managing to write this post (though who knows when I'll actually manage to publish it…)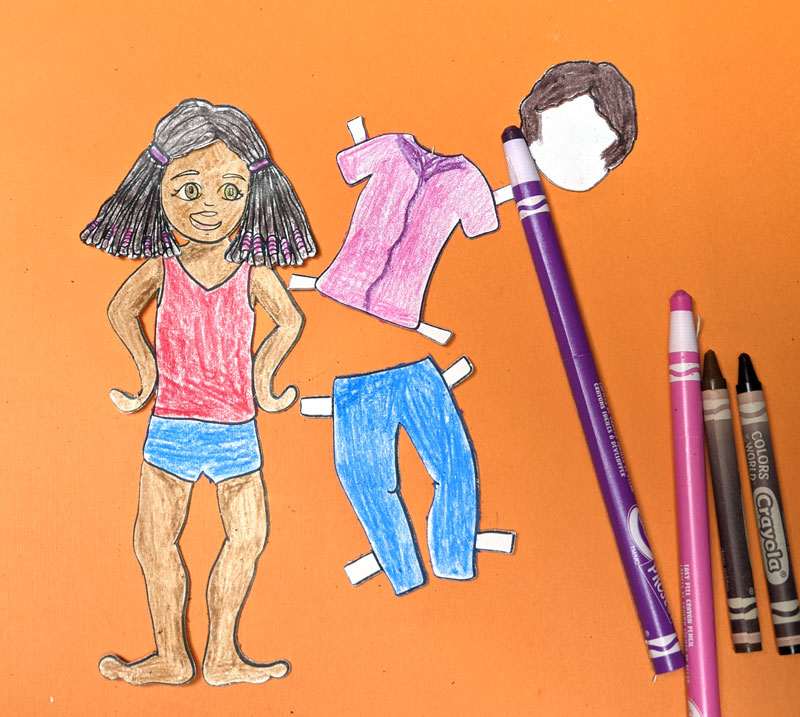 Here's how it works:
You have a "base doll" with a bald head.
You have different hairstyles you can put on. Just slide the head through from the front to the back.
You have a basic wardrobe for boys and girls. You can design it, add a little bling. You can even use it to trace and make your own wardrobe from fabric or textured card stock.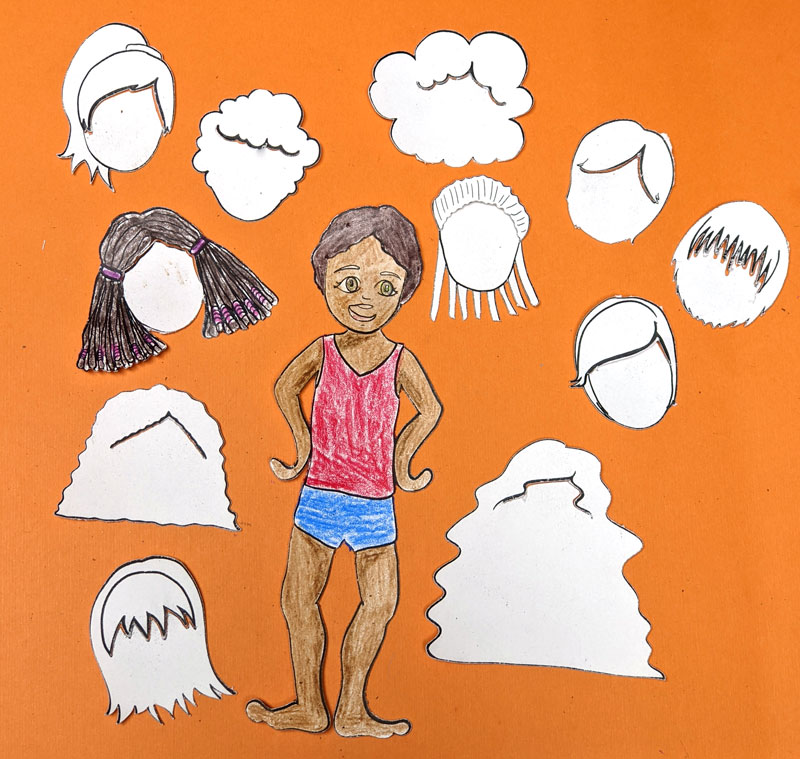 When I was designing it, I realized that it's actually a really cool craft to do with cancer patients and their friends, or any other child who is experiencing baldness for whichever reason. Dolls can be left bald, or you can consider the hairstyles like wigs.
Either way it's fun to be able to design your own dolls, and children who are under-represented can make paper dolls who look like them. Now I wish I'd have made a boy's head with a kippah on it!
I recommend pulling out Colors of the World crayons so that your children truly have the choices needed to make it look like themselves or their friends.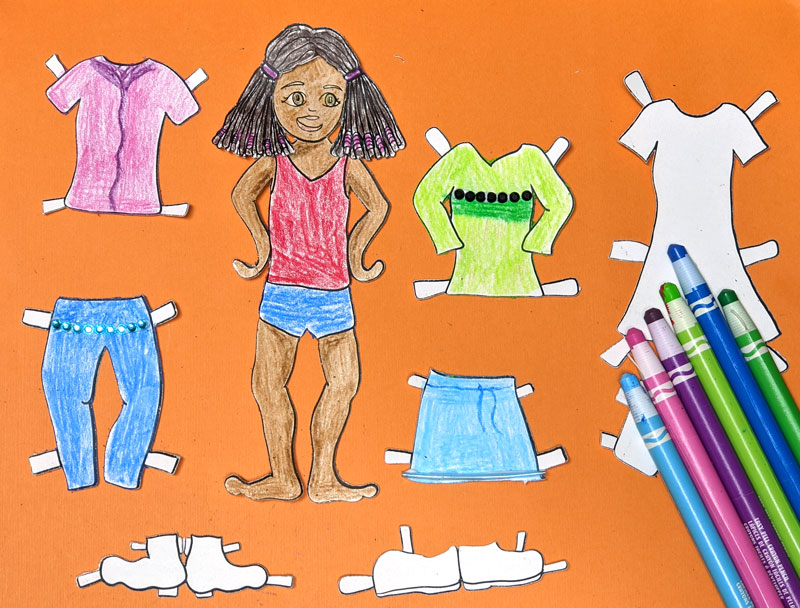 A few more important details about these paper doll coloring pages
This doll is compatible (within a reasonable margin of error that doesn't have a significant affect to the usability) with my other paper dolls.
I created a print-then-cut version in PNG format (both individual elements so that you can print as many as you need, as well as formatted to the correct 9.25×6.75 size, within a reasonable margin of error).
The Print then cut version does cut the slit in the hair. You might need to cut it another tiny notch on some hairstyles – I wanted to play it safe with how delicate I made it.
I recommend printing a few extras of the dolls and the clothing since your child will probably want to make a few different ones to swap with all the hairstyles.
And finally, after you download your free printable (which will arrive in your inbox) you'll be taken directly to a limited time offer to purchase the whole 4 season bundle including 8 products: the boy and girl doll versions of the fall, summer, spring, and winter dolls. The discount is huge – you're getting them each for $1 instead of the original unbundled price of $3 a set, so grab it while you can if you're considering the whole set!
Download your free paper doll coloring pages
You will receive a ZIP folder with PDF files for hand cutting and PNG for machine cutting or formatting your own.
To download: enter your email address in the form below and submit. Your download will arrive in your inbox. By submitting your email address you're consenting to receive email updates from me and me only. I will not share your information with anyone.
If you have any issues or need help, please reach out to me at menucha@momsandcrafters.com.
How to Print then Cut these with your Cricut
You need
Instructions
1. Click upload and then upload image. Choose your first image. Choose "complex" for your image type and then "continue".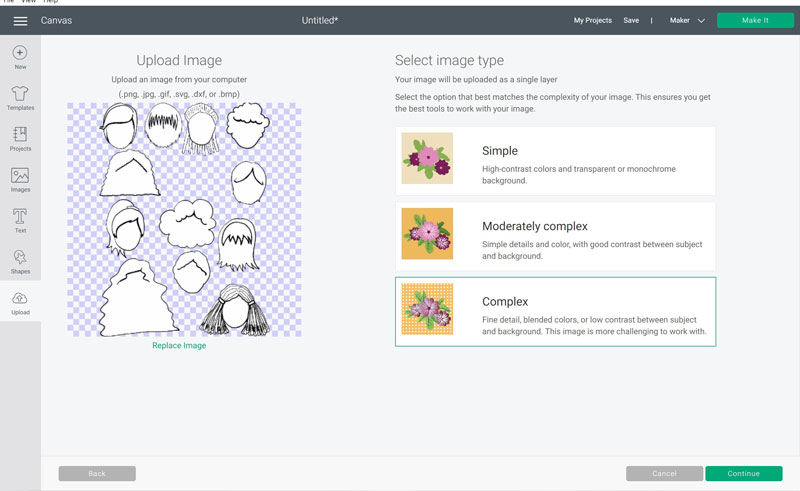 2. Choose "save as a print then cut image". The cut image is a good preview that shows you how your machine will cut.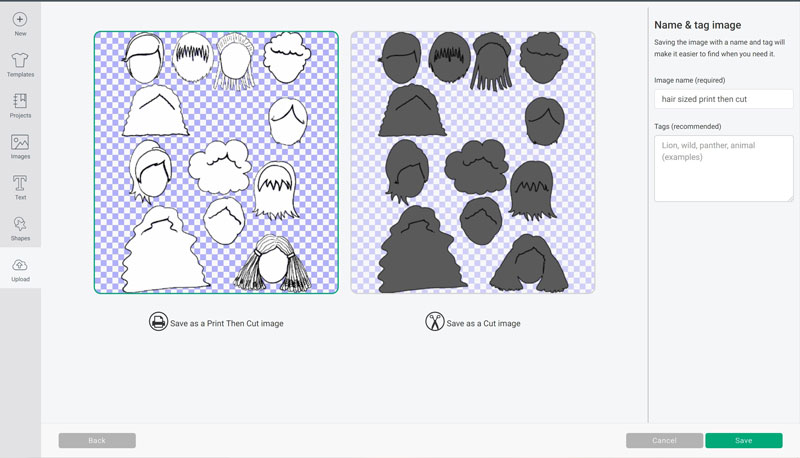 3. Select the images you just uploaded and insert them into your project.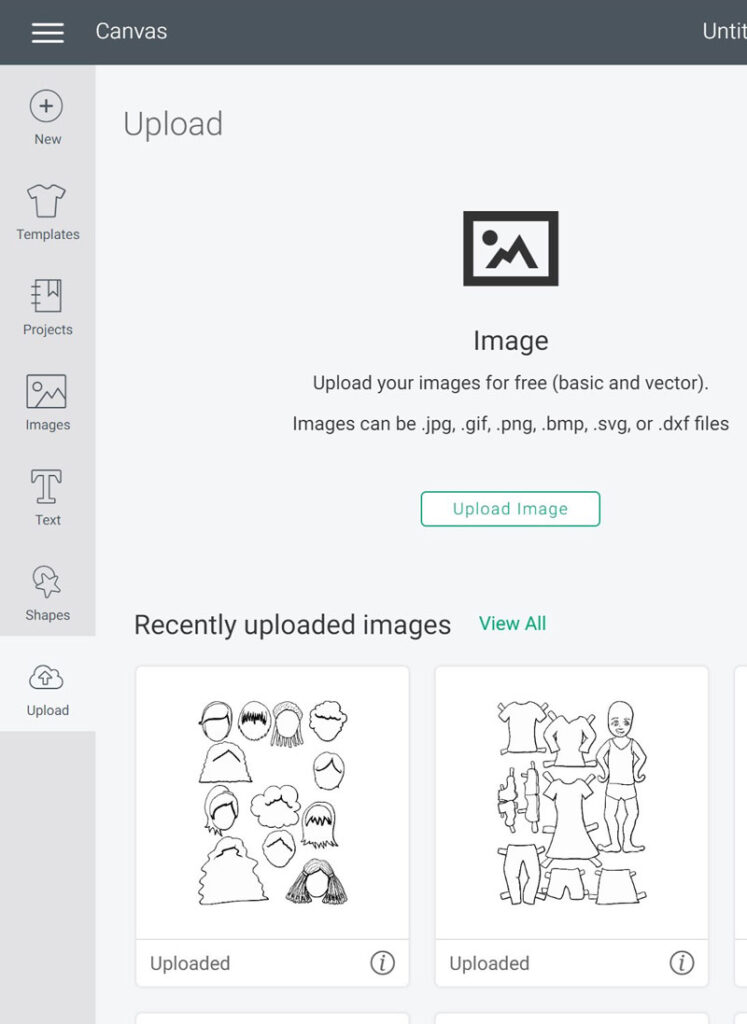 4. Resize each image to a maximum of 9.25 high and 6.75 wide. It may be off by a margin but that doesn't matter. If you're using the individual images, be careful to resize them proportionately, or to make sure on your canvas that it all fits.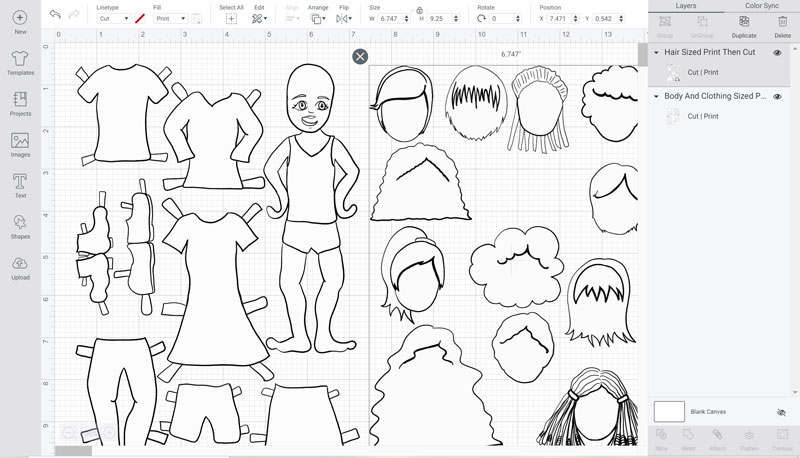 5. When you're ready, click "make it". Your machine will prompt you to send it to your printer. Make sure to print on cardstock. Set your material type to the correct weight of card stock. Place your project on your mat, making sure it's adhered well with a brayer. Cut.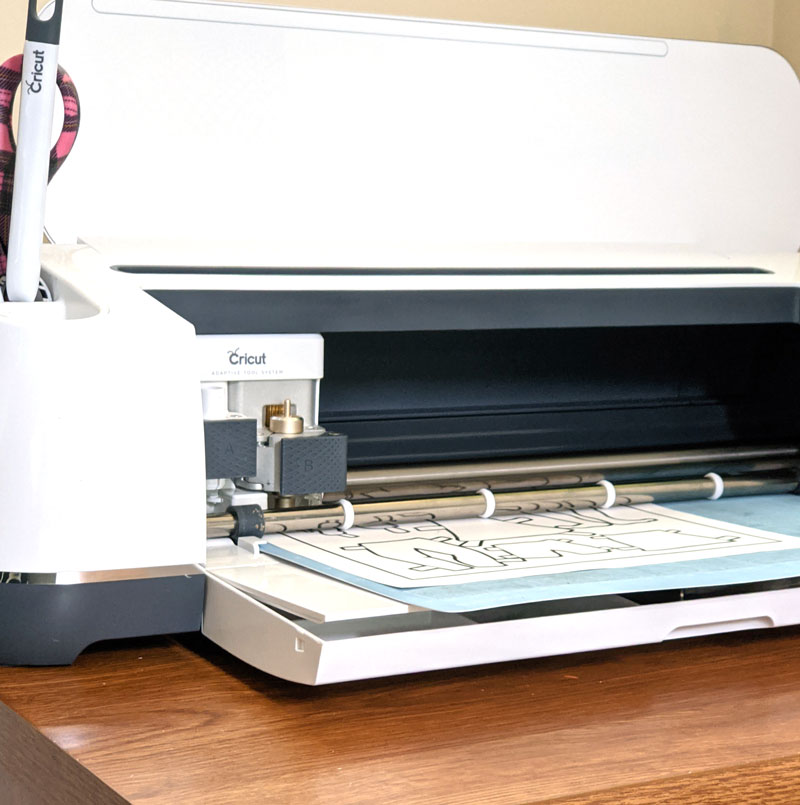 How to assemble the paper doll coloring pages
You need
Instructions
1. Skip to step 2 if you already cut it on your Cricut. If you didn't print then cut with a Cricut:
Print the PDF on card stock and cut out as follows:
Cut out the doll around the edges. Cut the space between the arms and body.
Cut out hairstyles. Use a craft knife (adults only) to cut a slit along the hairline where it overlaps the head. The lines are slightly bolder there.
Cut out clothing. Cut around the whole edge and then fold down the tabs that are sticking out.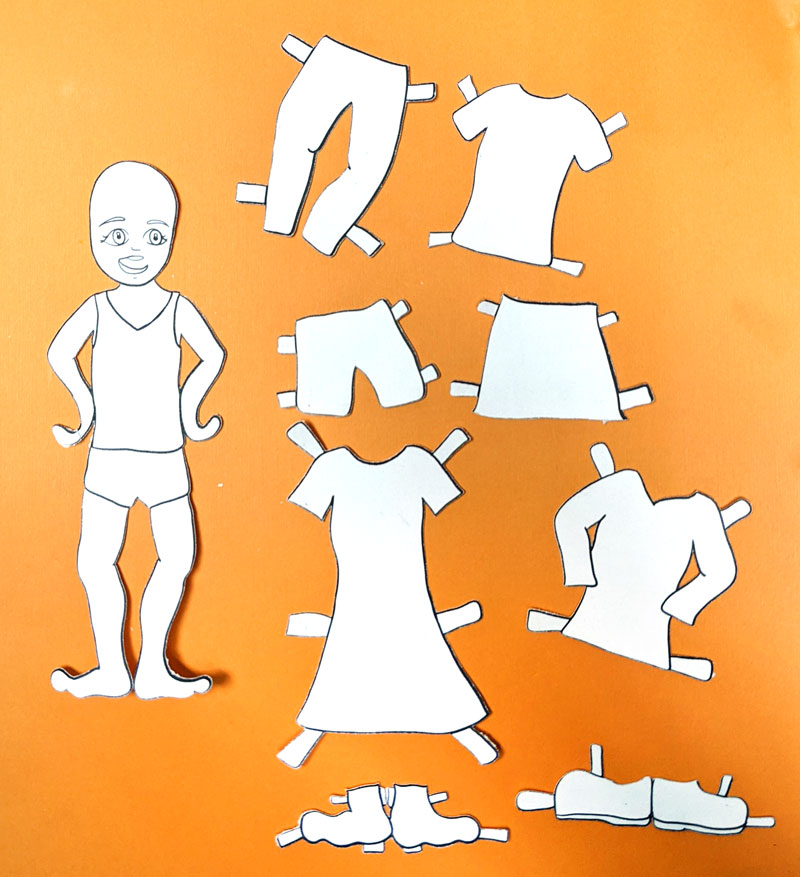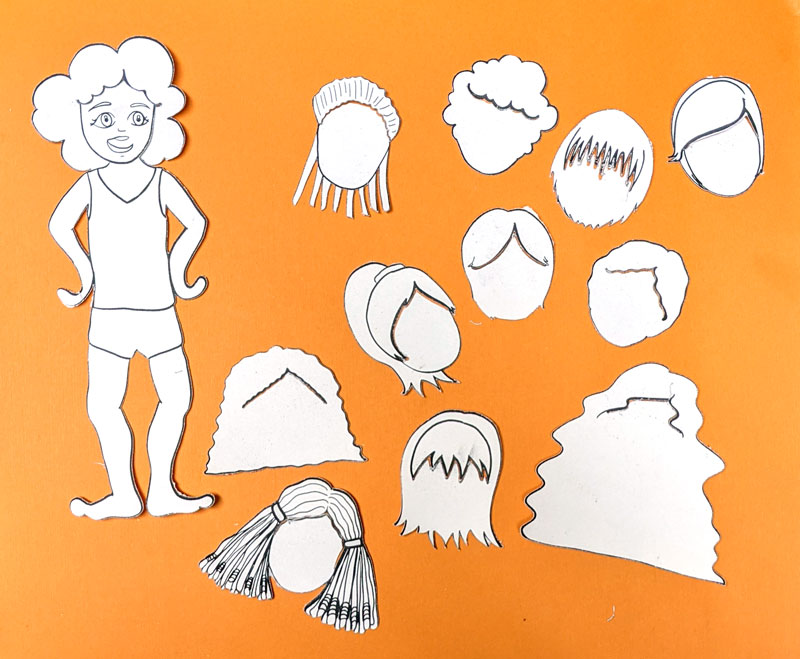 2. Color the parts of the doll you want to use. You can choose one hair style and paste it on, or color them all and switch them out as you play.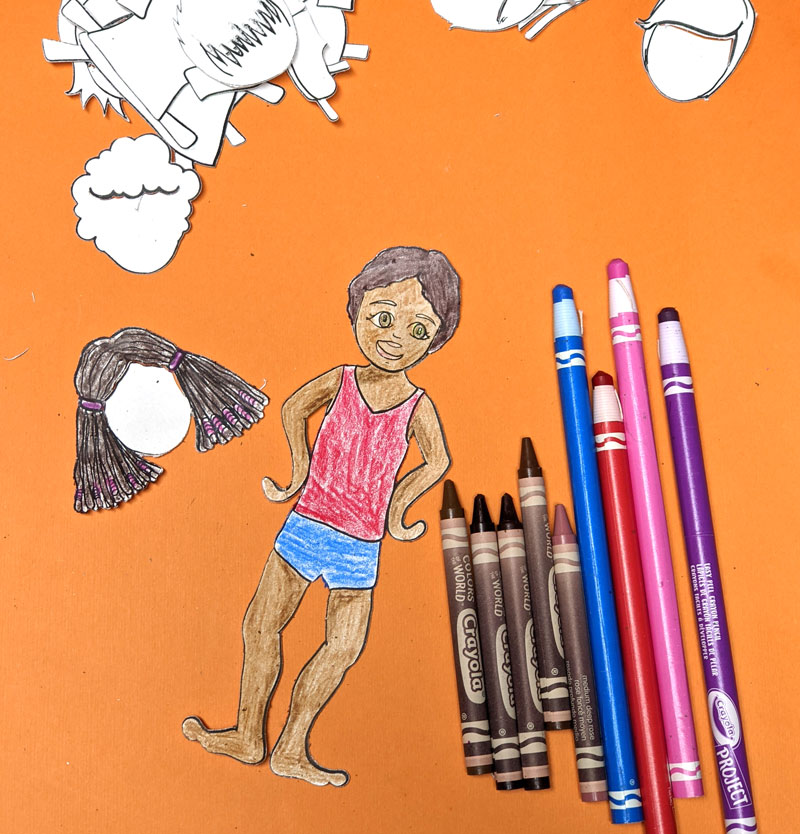 3. Decorate it if you want. Model the doll after yourself, your friends, or your imagination. Add some detail to the blank clothing templates.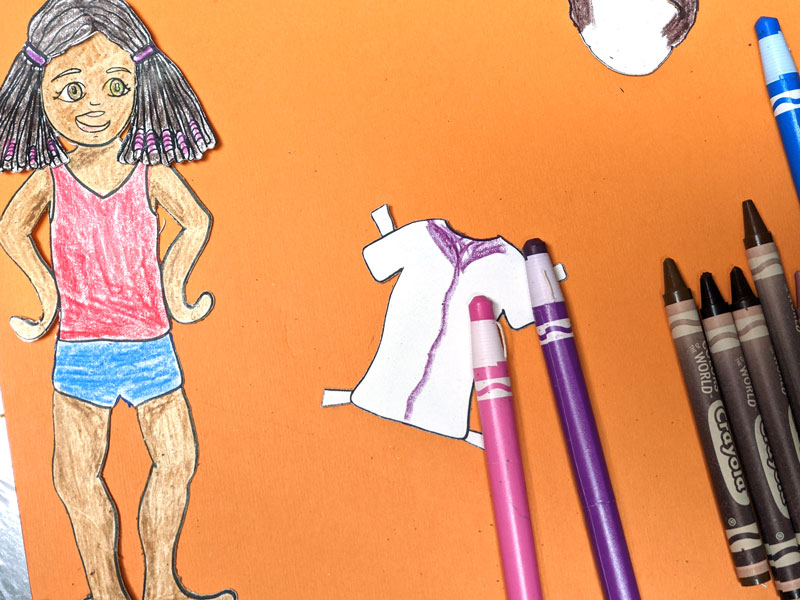 Add sequins, gems, ribbons, or whatever you want to the clothing – but do give it some style!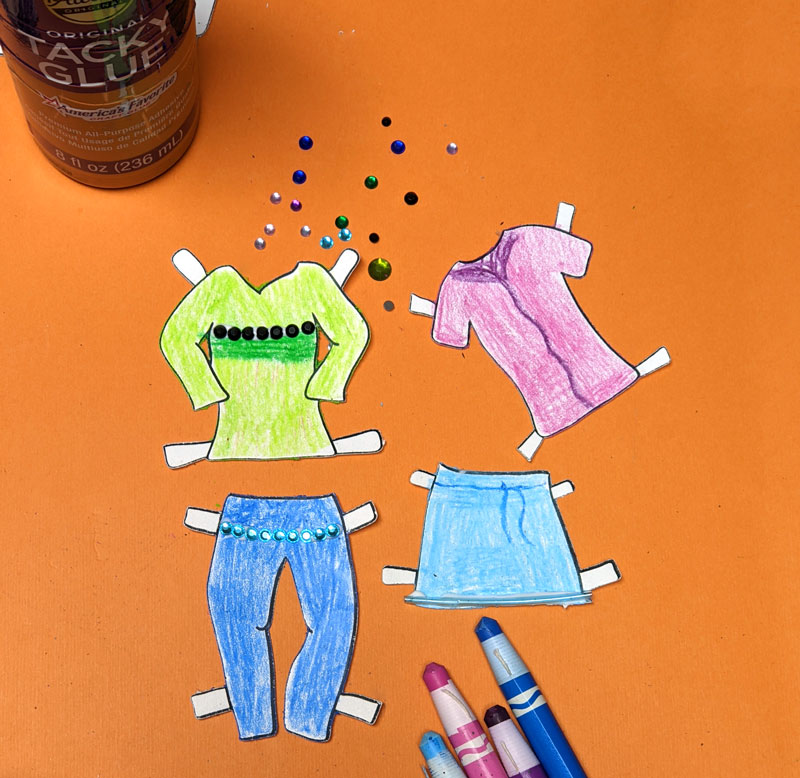 4. Assemble. Choose a hairstyle. Slide the head through the slit from front to back.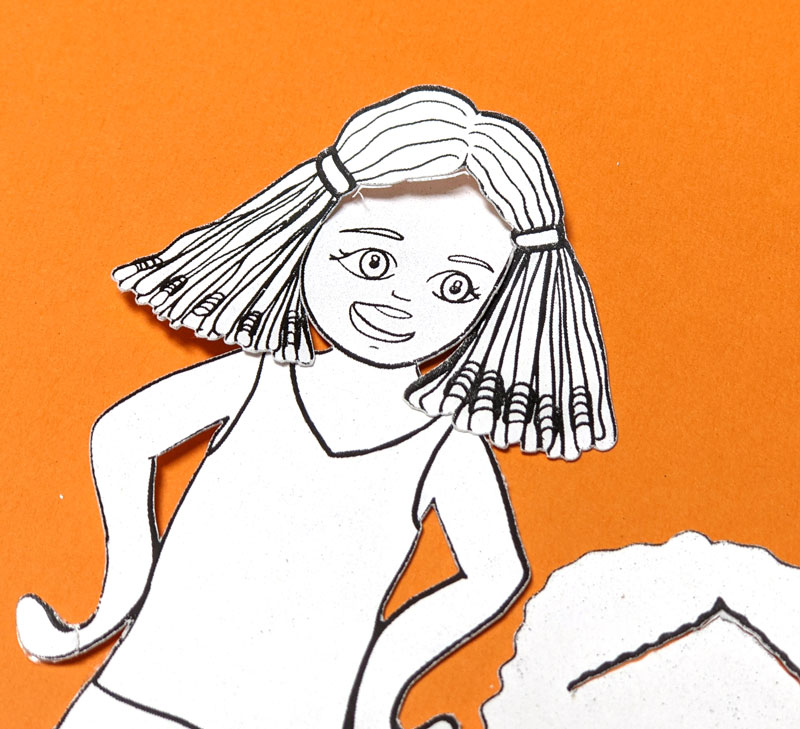 5. Dress your doll. Have fun and play.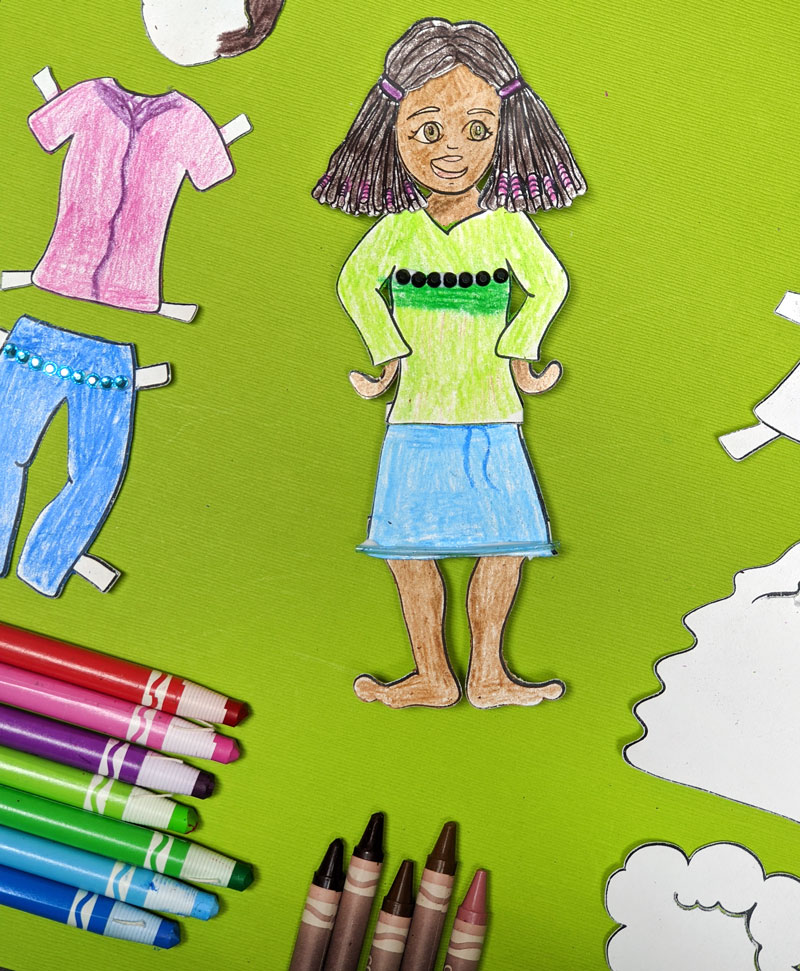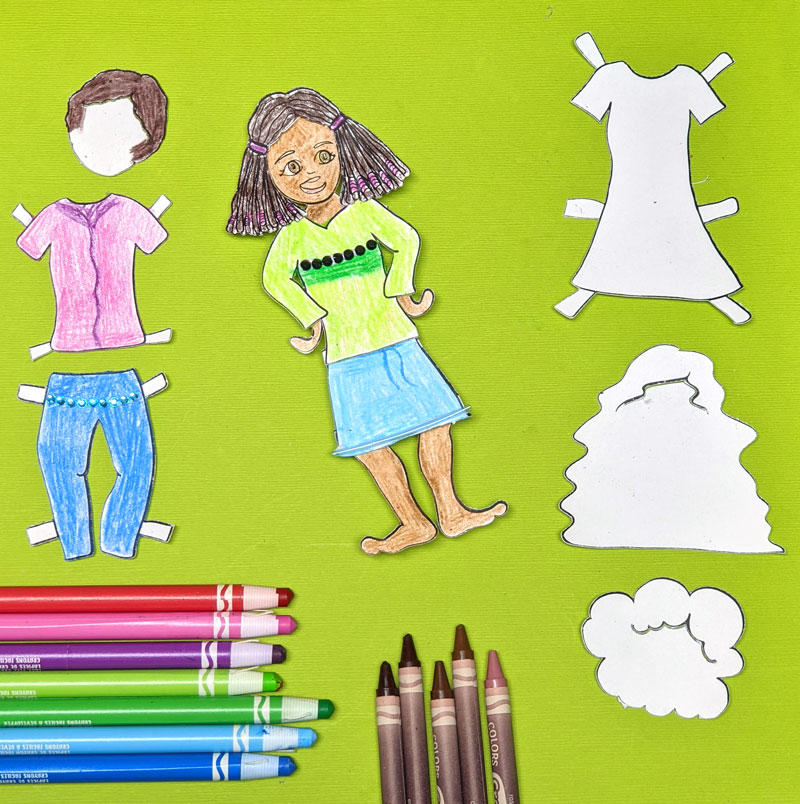 Make a set for a friend too!
I hope you enjoyed these paper doll coloring pages!
How will you be assembling them? Comment below!
[ad_2]

Source link