[ad_1]

Turn a simple acrylic vase into a gorgeous centerpiece for a neutral tablescape with this easy peasy painted vase makeover! When you're done, you can even make matching DIY napkin rings using copper wire and beads! This post contains affiliate links. Some products were received free of charge from Plaid Crafts/ FolkArt in the hopes I'll share with you.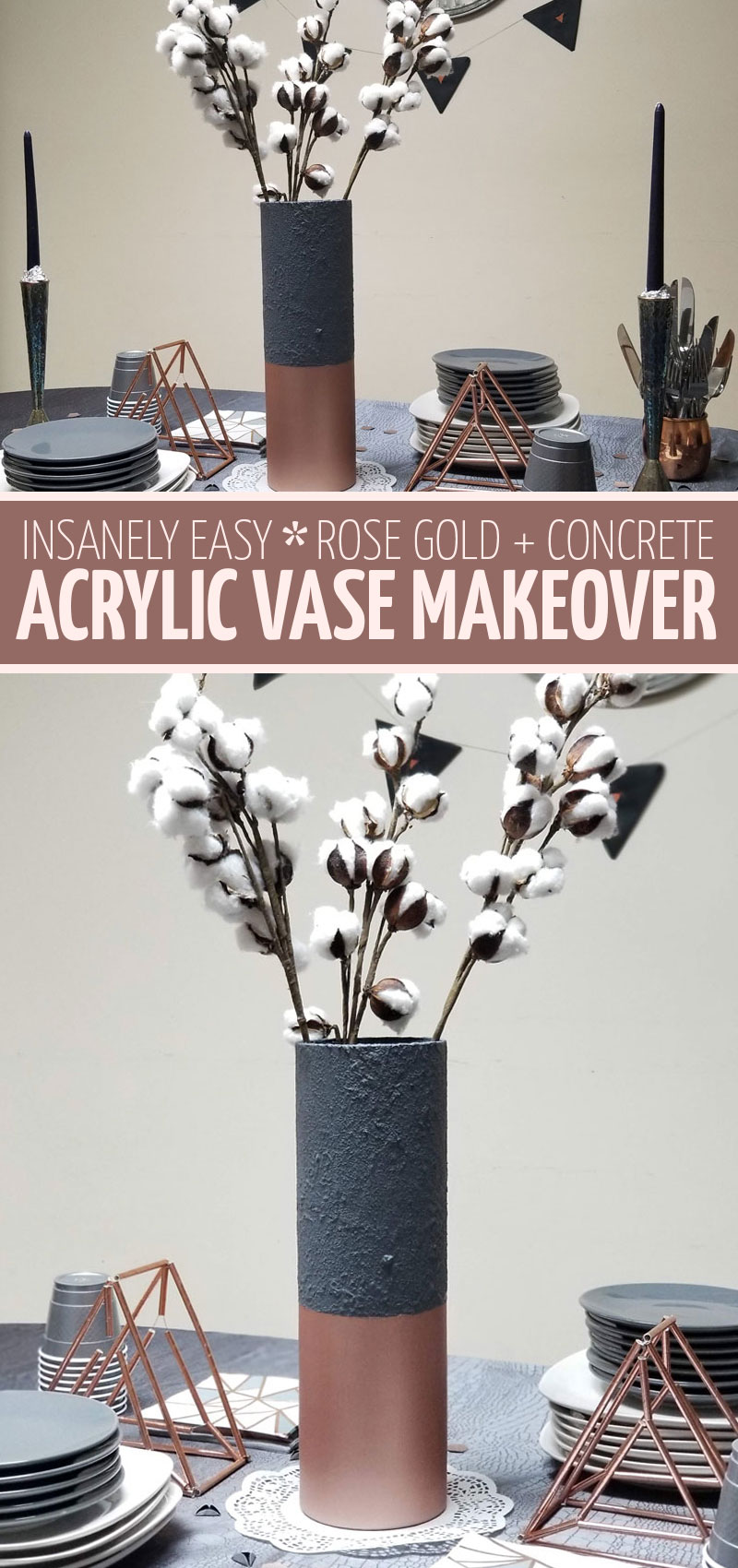 I had this ginormous acrylic vase that wasn't really doing any good hangin' around my space, so of course I decided to keep it to craft with someday…
Then, with a family party (namely, Purim) coming up, I decided it's time to pull it out and try a new DIY painted vase makeover to complete our copper and charcoal tablescape.
And to this day, it is no longer an eyesore and sits proudly on our entry table/shelf – which is a blog post for another day, someday.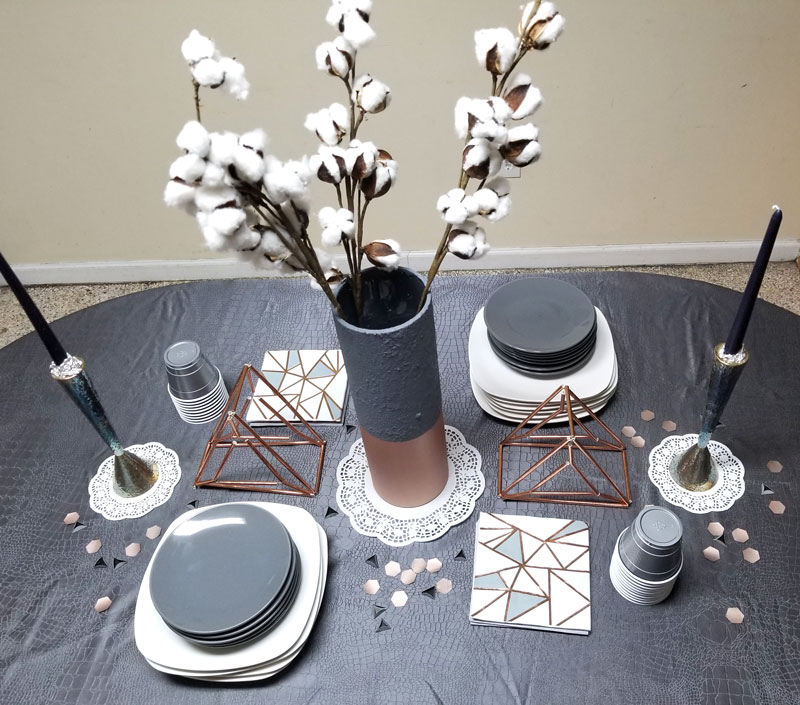 It all started with a tablecloth. My tenant lent me some stunning charcoal/Pewter/gunmetal/whatever you wanna call it table cloths that I knew I had to use for our family Purim party buffet.
Yes, you can use these ideas even if it's not a buffet.
And I'd like to point out that I did switch between rose gold and copper indiscriminately. I just used whatever I had. The paint on the vase is actually rose gold for no good reason (you can make it in copper). The Himmeli is rose gold. The napkin accents, moscow mules, and more are copper.
Anyway, all this evolved into a gorgeous neutral tablescape. I say "gorgeous" next to "neutral" and I surprise myself. To me, neutral is often boring and the way to keep it from getting that way is with texture.
Metallics.
Industrial touches.
You got it.
It's the textures that keep this tablescape from being boring, and the painted vase makeover is a huge part of that.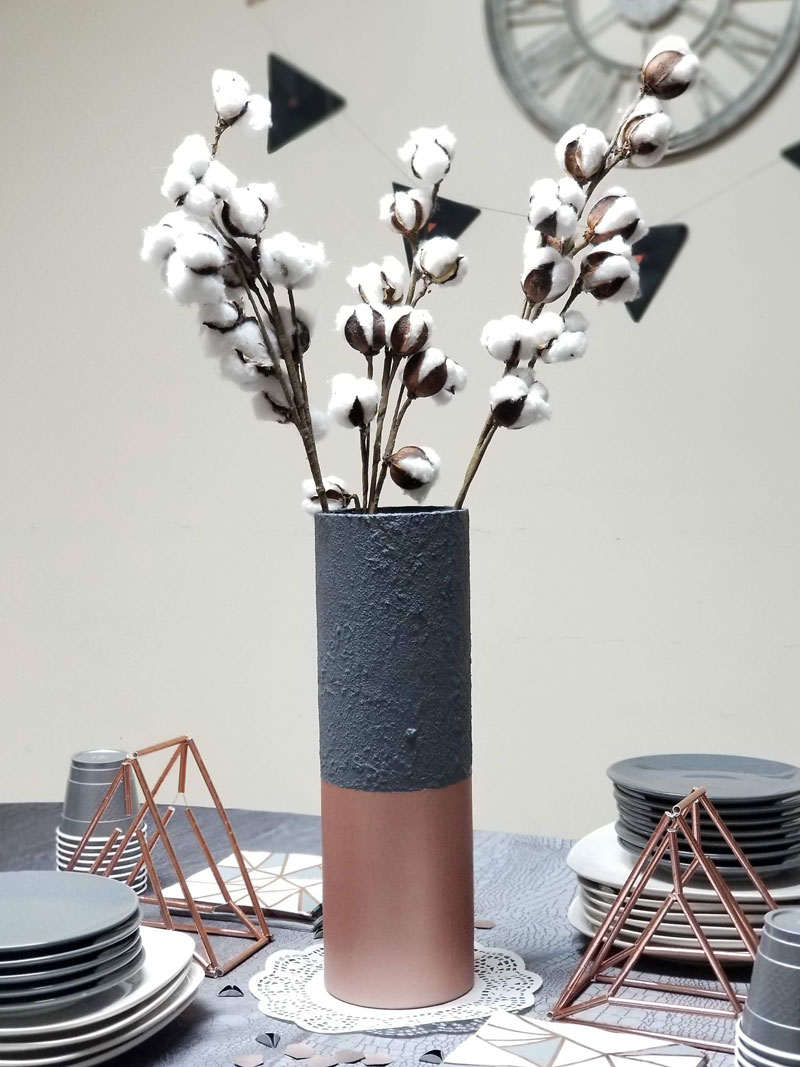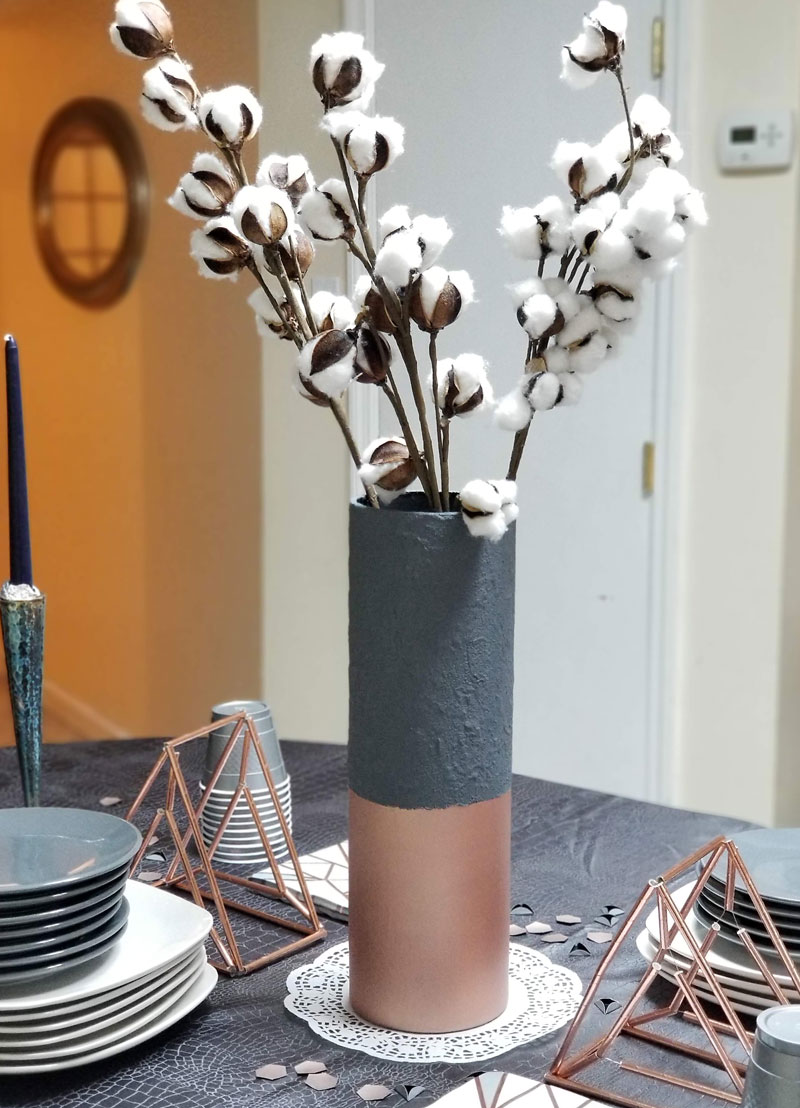 So here are the deets of the neutral tablescape in list-format for all you naughty little skimmers out there:
This painted vase makeover – tutorial below. I put cotton stems inside to soften things up and keep the coloring neutral. You an use other flowers but keep it simple, and keep in mind that you may be adding more color that you don't want. I was actually eying calla lilies for this, but those were too green… I placed it on a white doily to contrast better with the tablecloth.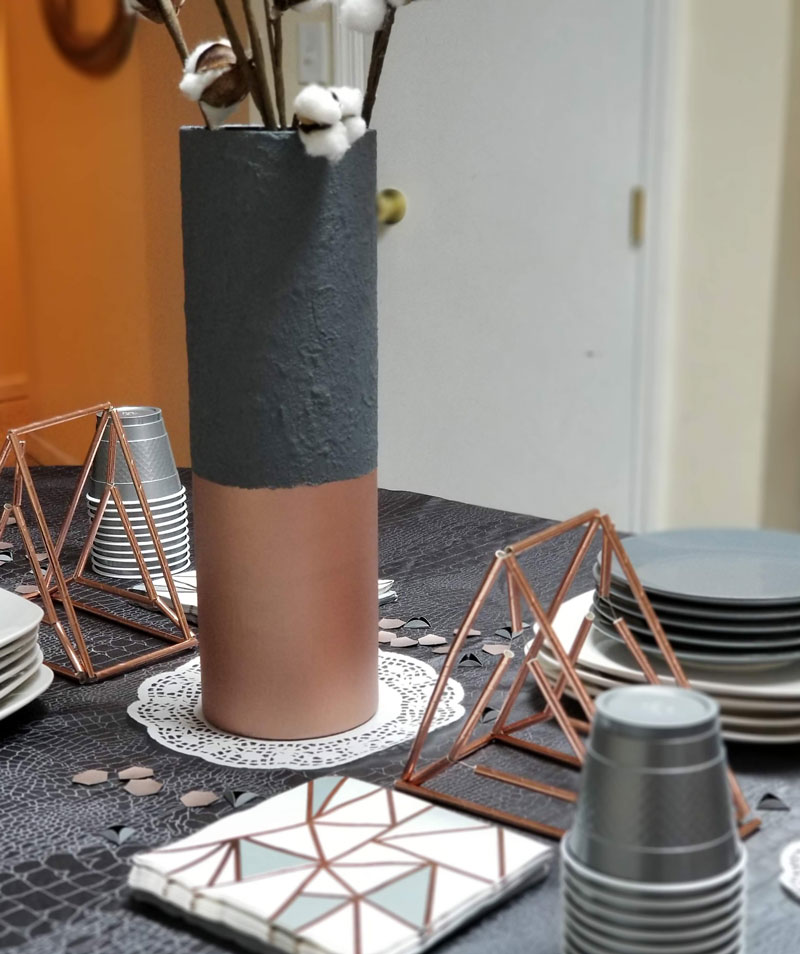 Himmeli centerpieces – Himmeli is the art of making sculptures with metal rods threaded on wire. If you're like me you're thinking "metal whaaa?!" and running to grab some metallic paper straws instead. I chose Hamantaschen shapes for Purim but anything will do. Basic geometric sculptures for generic themes, a cut diamond shape for anything bridal, triangle tree for Christmas… you get my drift. You can even buy them ready made if you're not up to making  your own.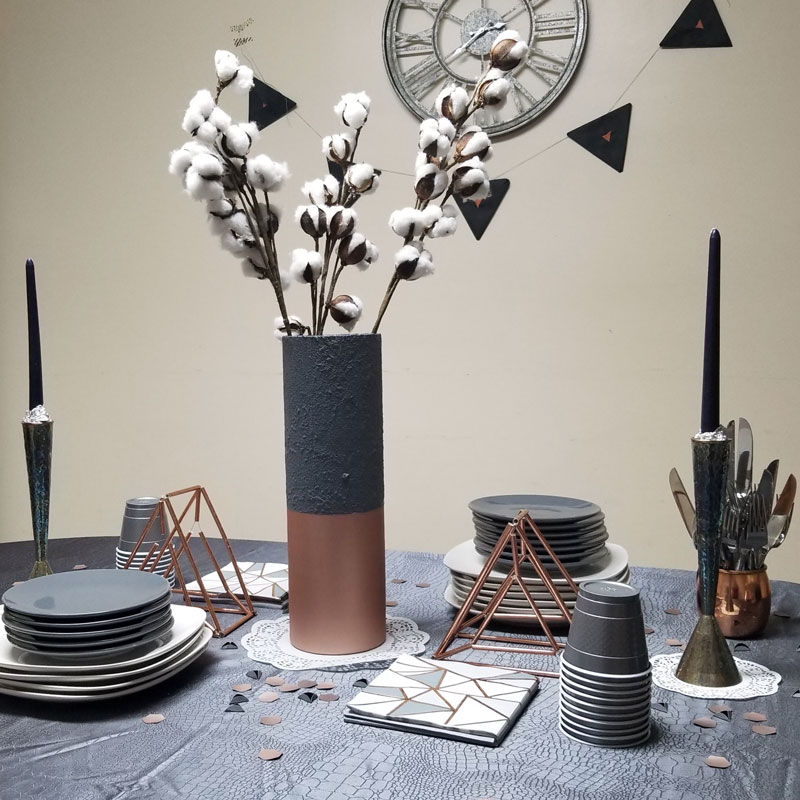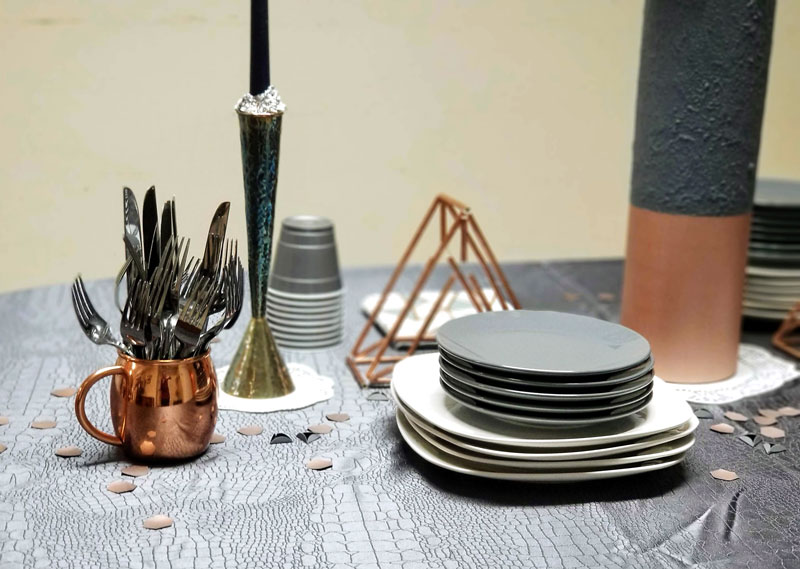 Napkins – I found some beautiful geometric charcoal and white napkins with copper foil accents at a local shop.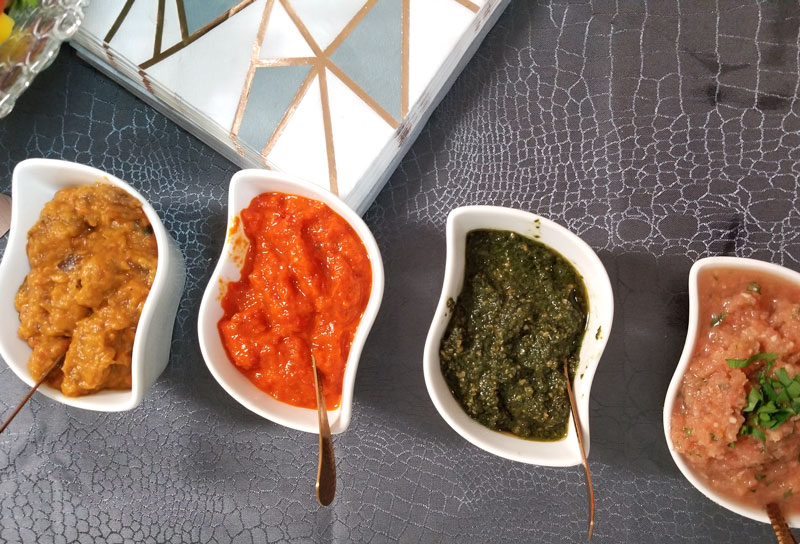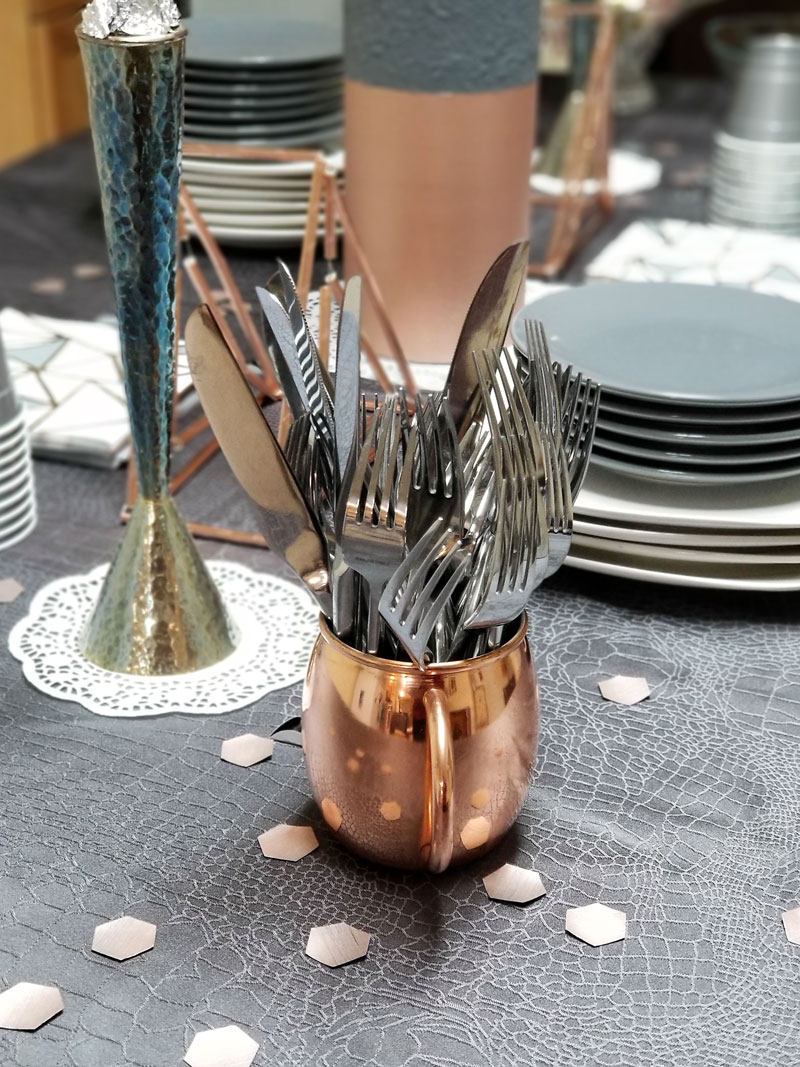 DIY confetti – an octagon punch makes a modern shape! The glitter cardstock I bought was either too orangey or too pink, so I instead painted some black cardstock with more of the brushed metal paints. I also made some in gray/black using two-sided card stock.
Hammered candlesticks – my candlesticks that I light every Sabbath have a beautiful patina, so I matched them with deep blue-black tapers which picked up the patina.
I also used white porcelain dishes with hammered copper dip spoons and utensils for the various dishes throughout the buffet, and especially on the salad/dip table.
And now, for the tutorial on how to make this beautiful concrete and copper painted vase makeover.
What you need to makeover an acrylic vase with cool textures:
How to create your painted vase makeover:
1. Determine your cutoff point where you want the metallic portion to end. It's important to do this part first. Tape it off using painter's tape.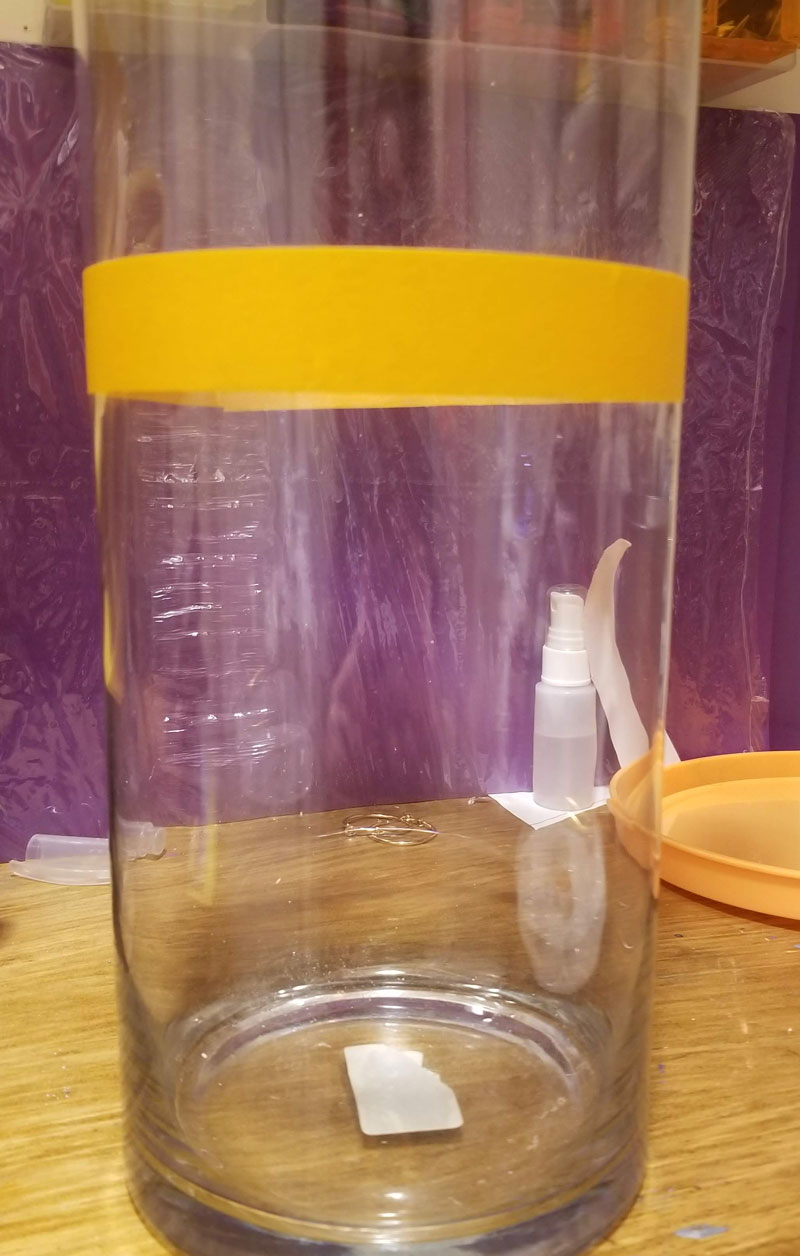 2. Paint your vase in even, consistent strokes. Allow it to dry completely and repeat with another layer if needed.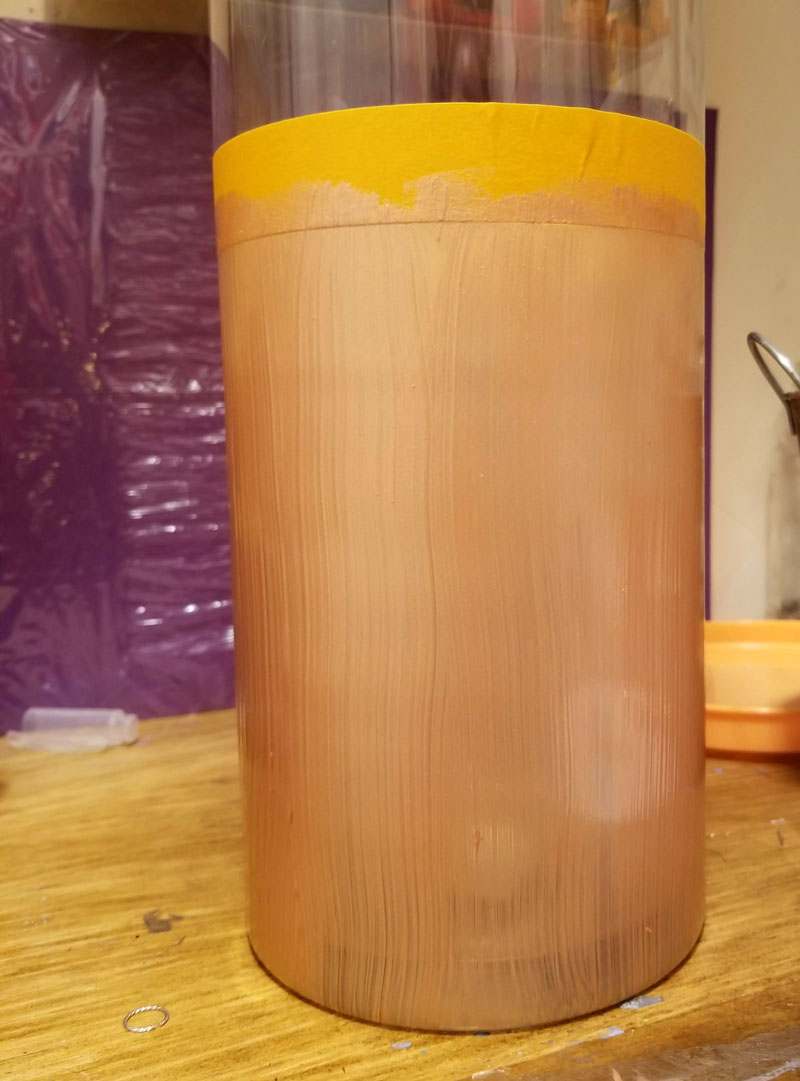 3. Use a craft knife to help you cut around the edge of the tape, so that you don't peel off any paint when you remove it. Peel off the tape slowly and carefully.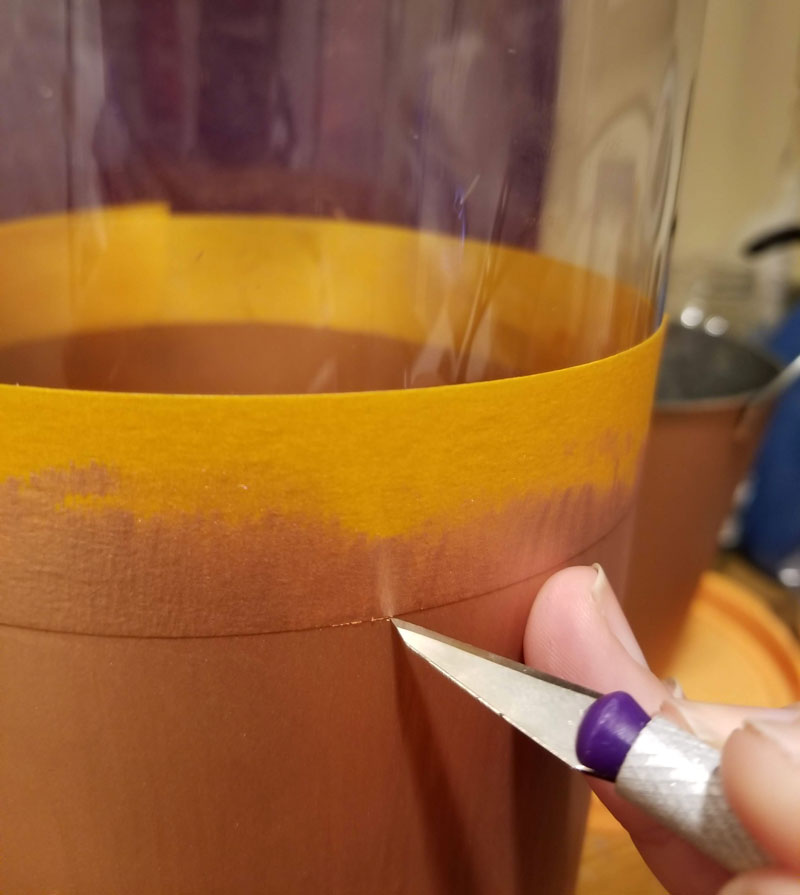 4. Now use your textured brush to apply the concrete paint. You can dab, swipe, and apply whatever you want. Since this is a textured paint, you don't need a sharp line. Use the border of the metallic paint as your guide and apply it slowly and carefully in that area.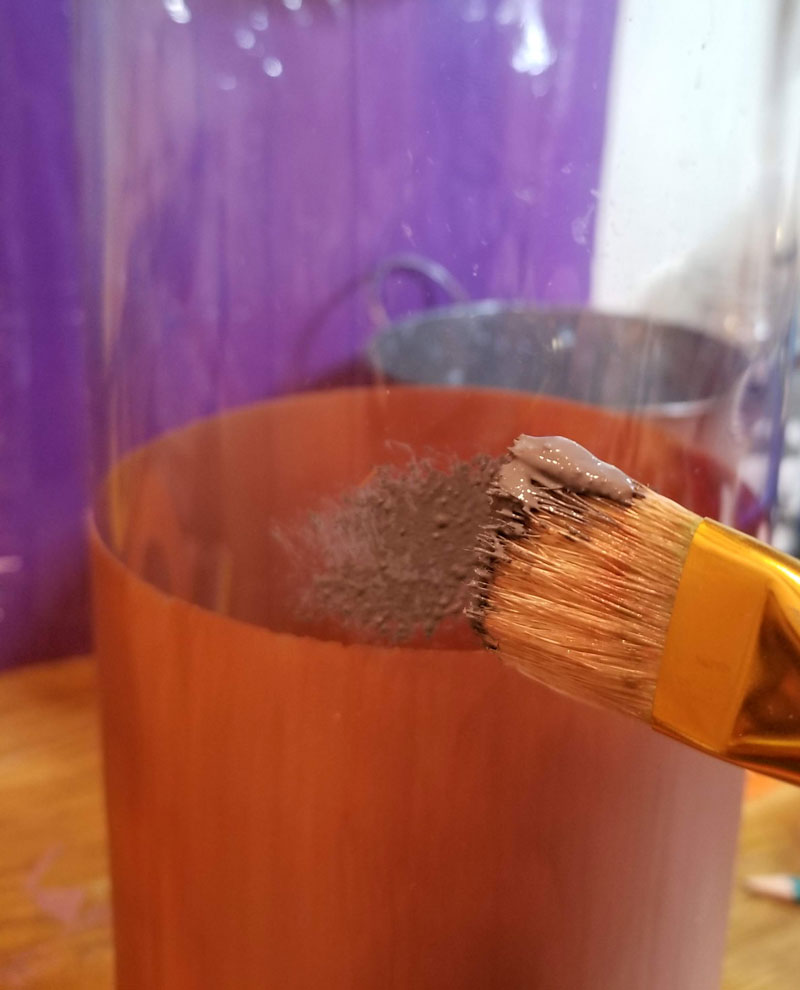 Make sure to remove paint from overly drippy areas. This paint applies thick and you will need a single layer in most spots so pay attention to the texture that you are creating.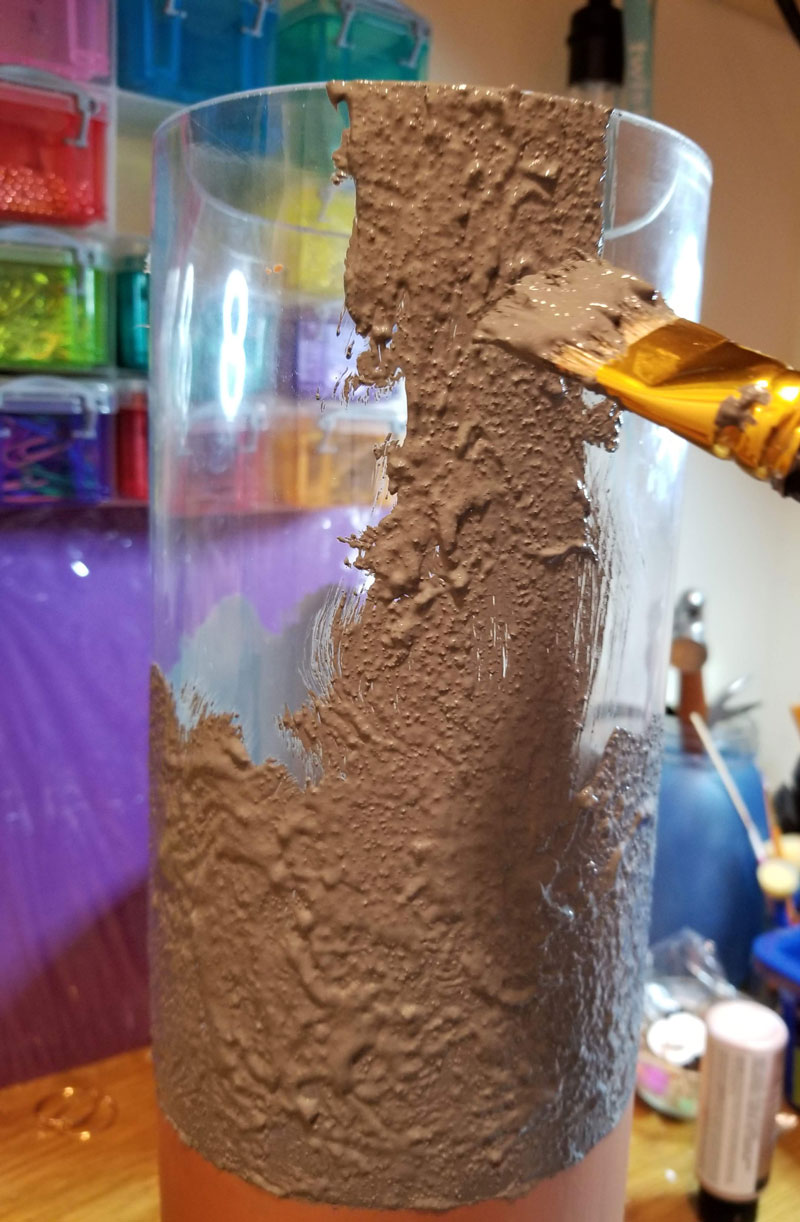 Paint around the top rim for a more finished and convincing look. From this angle you can see that some spots weren't fully covered. I did a second "touch up" layer in those areas once the first layer dried.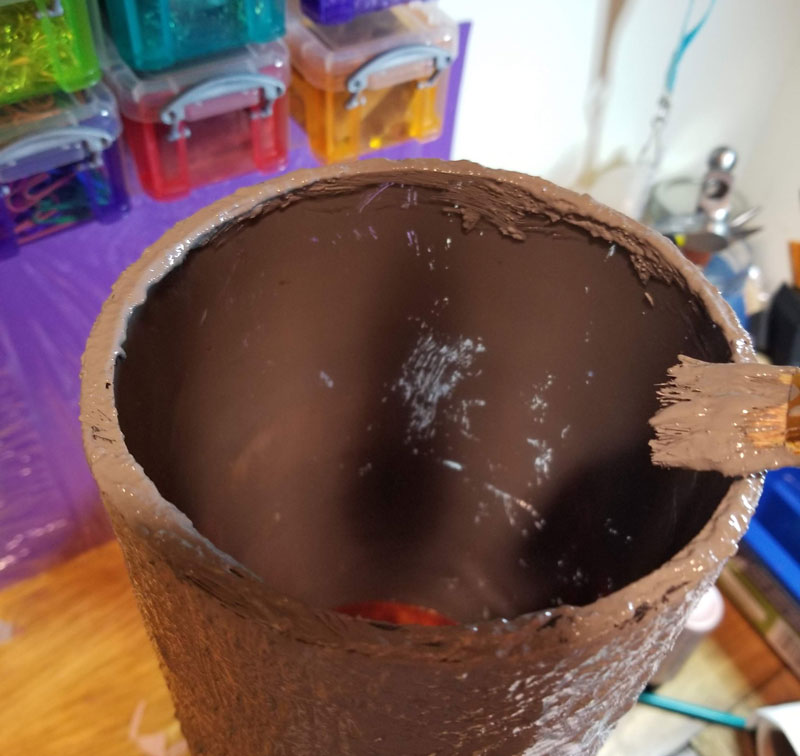 Add a few statement stems and your centerpiece is ready to go!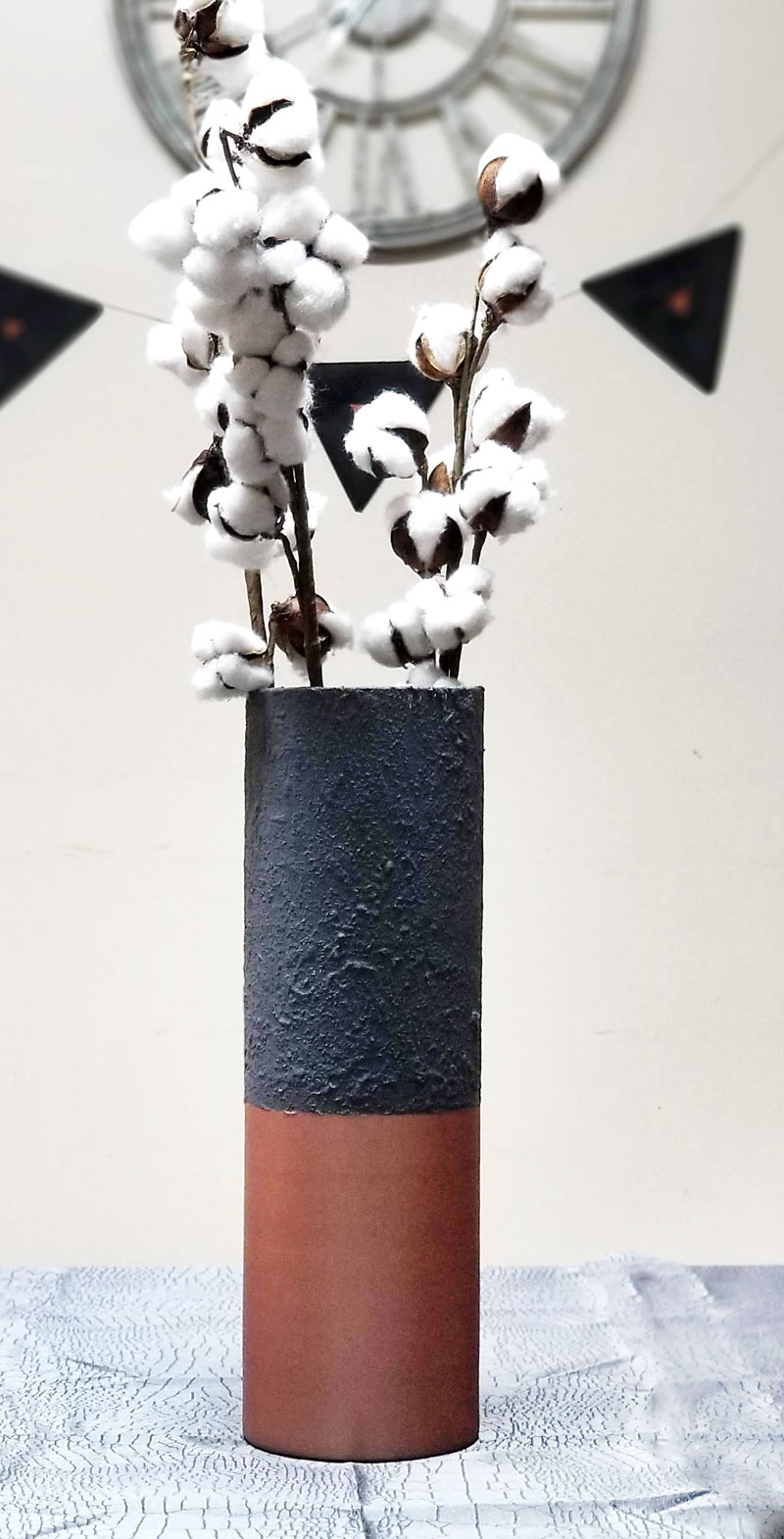 Have you ever played with a concrete and metallic contrast in a centerpiece? What do you think of this neutral-but-not-boring color scheme? Do you have any other painted vase makeover tips or ideas? Comment below!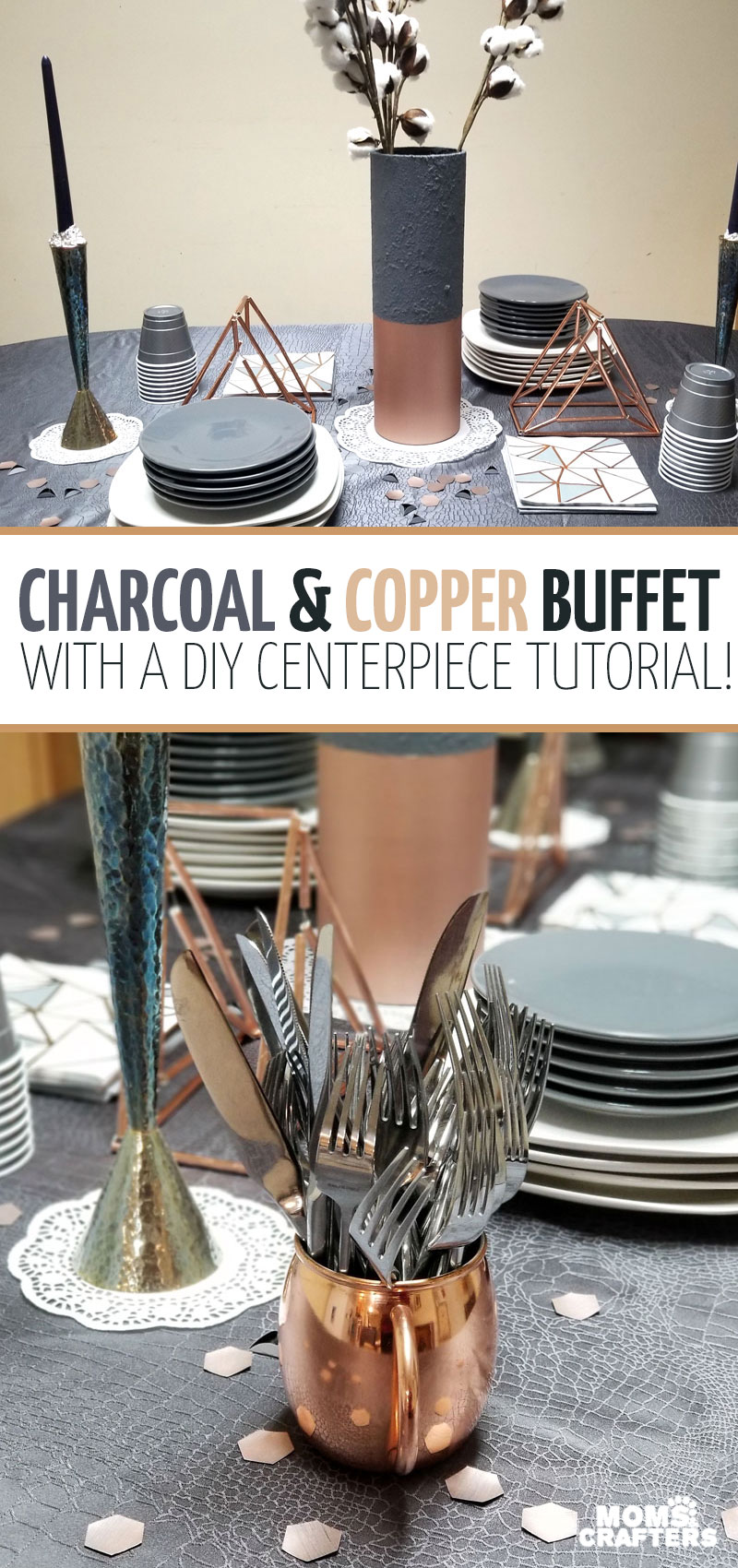 [ad_2]

Source link