This is Blog Post is dedicated to all the Brides to be. Lets Dive in to see Top 10 South Indian Bridal Jewelry that is Trending..
The wedding day is the most special day of any girl's life. Every girl dreams of having the perfect fairy tale wedding complete with a spectacular wedding outfit, magnificent jewellery, gorgeous wedding decor and of course, the perfect groom to-be! Indian weddings in particular are an exuberant display of pomp and celebration. For the bride, choosing her wedding lehenga or saree and her bridal jewellery is a once in a lifetime opportunity that she cannot go wrong in! Her jewellery is absolutely essential to her wedding trousseau. South Indian Bridal Jewellery, chosen carefully accentuates the beauty of the bride and makes her look even more enchanting on her special day.
South Indian Bridal Jewellery Trends
These days, all brides to-be are in the search of latest trending designs that will look unique and different from everybody. No one wants to wear the same old designs from yesteryear!
To make things easier for you, we've compiled a list of the most gorgeous latest South Indian bridal jewellery trends we have come across in 2020!
1. Diamond Jewellery Sets
Someone once said diamonds are a girl's best friend. We will not disagree! Diamond jewellery with its sparkling glamour and shine will never fail to look amazing on your wedding day. It goes with literally any outfit! No one can say that the glistening white jewels set with precious stones like emerald and ruby, do not do justice to the bride.
Diamonds can even be worn later on in life, on anniversary occasions, on birthdays, on your best friend's sangeet, anywhere, you name it! They're definitely worth investing in.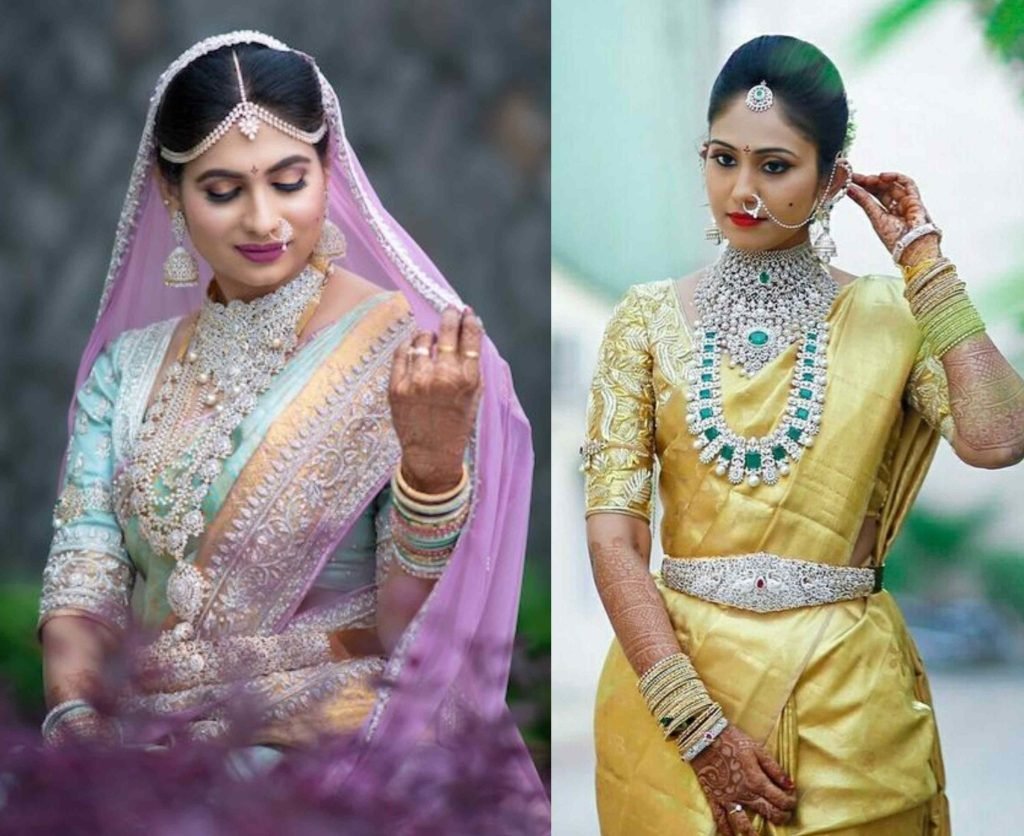 2. Temple Jewellery Sets
Temple jewellery designs look exotic and traditional at the same time! These chunky chains made of nakshi work are so intricately carved that no two designs turn out same. Hence, each design is totally unique!
The most favorite among pendants made in nakshi jewllery are Goddess Lakshmi and Lord Ganesha designs. These are adorned with precious stones, diamonds, polki work, gold beads or pearls. Are you ready to look like a stunner on your wedding day with these divine temple jewellery sets?
3. Antique Gold Jewellery Sets
Antique gold jewellery has been the go-to for brides for several decades now because of its ethnic look! Gold never fails to add that much needed charisma and delicateness that a bride demands on her D-day.
Layering ornate gold pieces in 22-karat yellow gold, with gold ball or gold bead chains, meenakari work, kundan haars etc is an extremely popular option among south Indian brides. We definitely think gold jewellery sets are timeless and classy!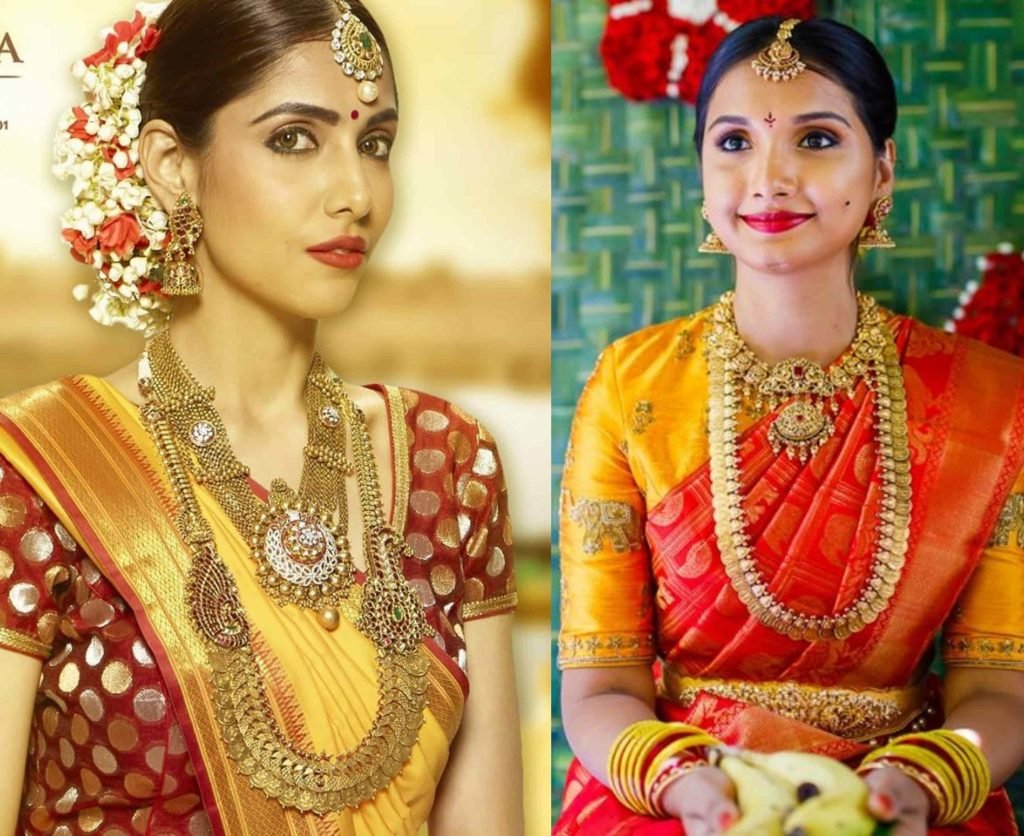 4. Polki Diamond Jewellery Sets
Hailing from the grandiose Mughal era and specially handcrafted to make you feel like a royal, Polki diamond jewllery is all the rage in 2020. Made from natural unfinished diamonds, and set in a concave unit of 22 karat yellow gold, each polki unit exudes an old world charm from itself.
The lustre and shine of polki diamond jewllery , although not the same as polished cut diamonds, is enough to take anyone's breath away! These days, open polki and Hyderabadi polki -which is set in silver instead of gold- are also trending for contemporary brides.
We think the rich royal look polki diamond jewellery gives is spectacular indeed.
5. Kundan Jewellery Set
Although very similar looking to Polki, Kundan jewellery uses glass instead of raw diamonds in individual units. The irregular stones give a very appealing and classy vibe to the jewellery.
Kundan designs have been evolving over the years and new contemporary designs are very much in trend nowadays! Kundan is also very affordable compared to polki jewellery and looks as charming as polki. So why not go for Kundan encrusted with semi precious stones for a budgeted wedding look?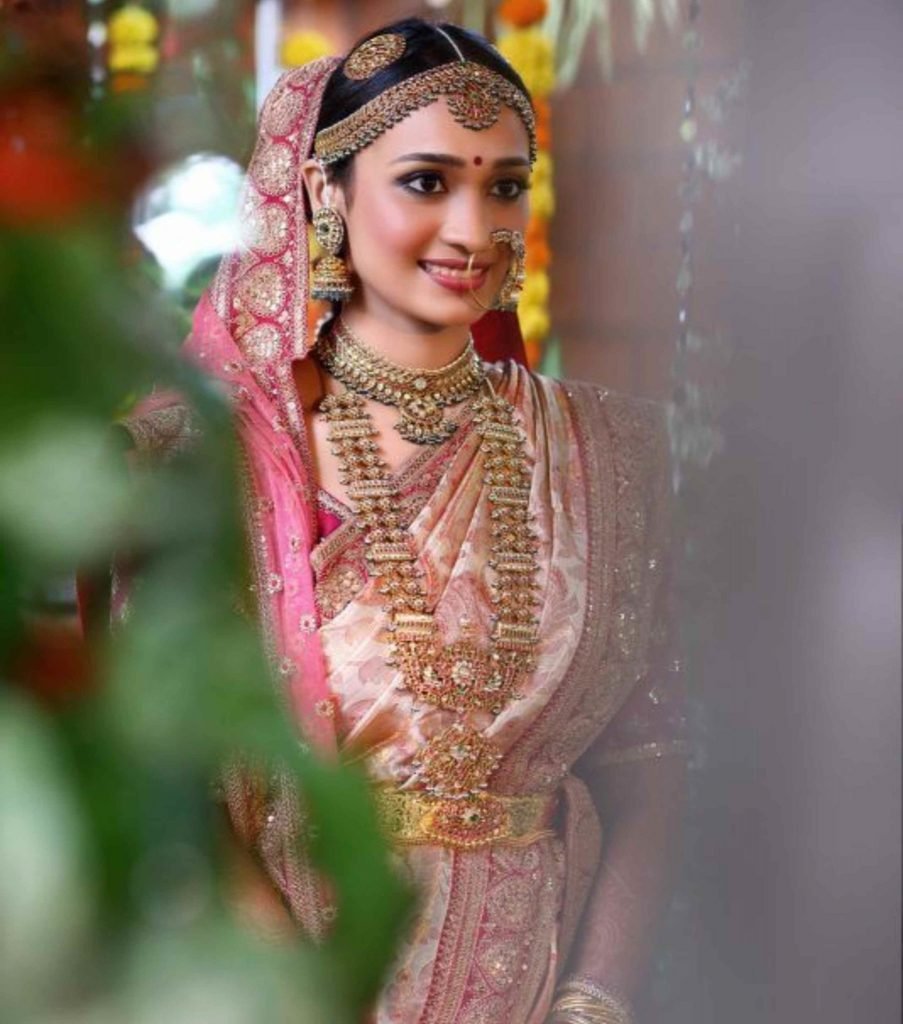 6. Guttapusalu Wedding Jewellery
"Pusalu" means beads and "gutta" means bunch in Telugu. So guttapasulu literally translates to pearls arranged in bunches. Guttapusalu bridal necklaces look exquisite and make you feel like a total princess! Long or short, the neckpieces are designed in traditional patterns and flower motifs and set with different gem stones. We truly believe they look magical with matching earrings and maang tikkas.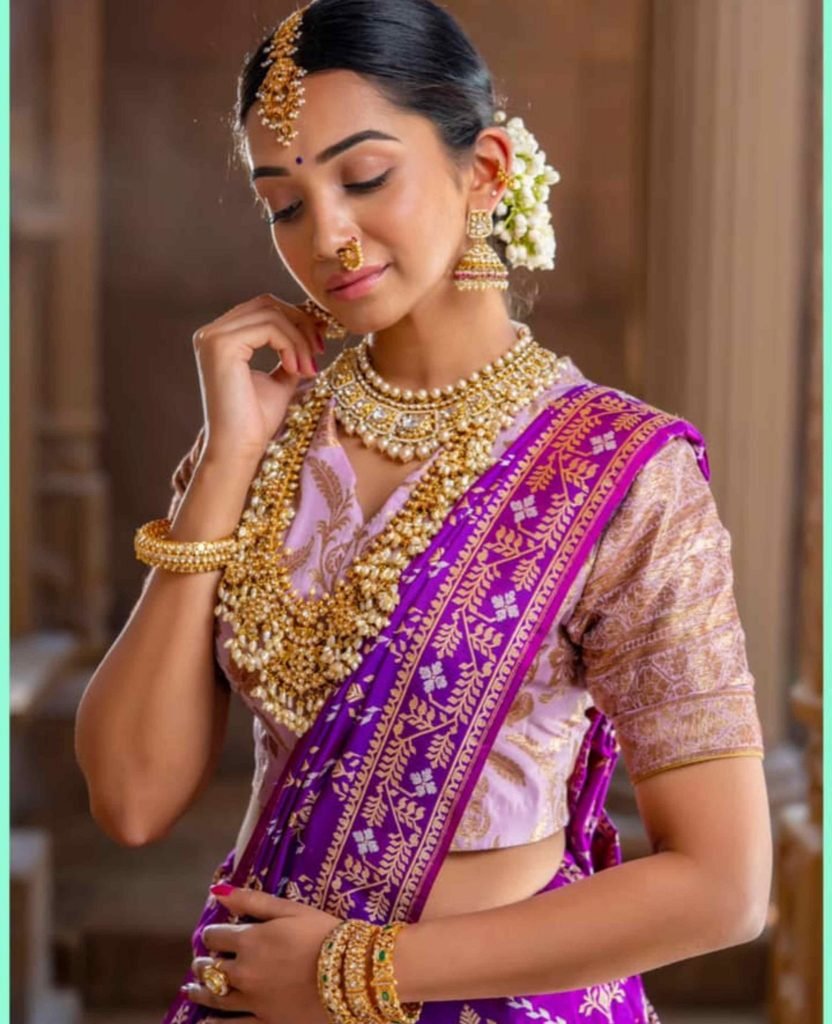 7. Layered Pearl Satlada Necklaces
A satlada haar is basically a bridal necklace made of 7 strings of pearls, in addition to precious gem stones, diamonds, polki work etc on the haar. This type of bridal jewellery originated from the Nizams of Hyderabad and has definitely caught on in south Indian culture. It is eye catching and looks extremely regal.
One can wear the satlada haar by itself or can pair it with a choker piece for a dazzling display of opulence.
8. Emerald Beads Jewellery
Multi-stranded emerald bead necklaces are definitely trending all over in 2020! Designed either with pendants or just solitary bead strands, these necklaces look queenly and luxurious. The deep green complements almost all primary and secondary colors and hence, can be worn with any outfit!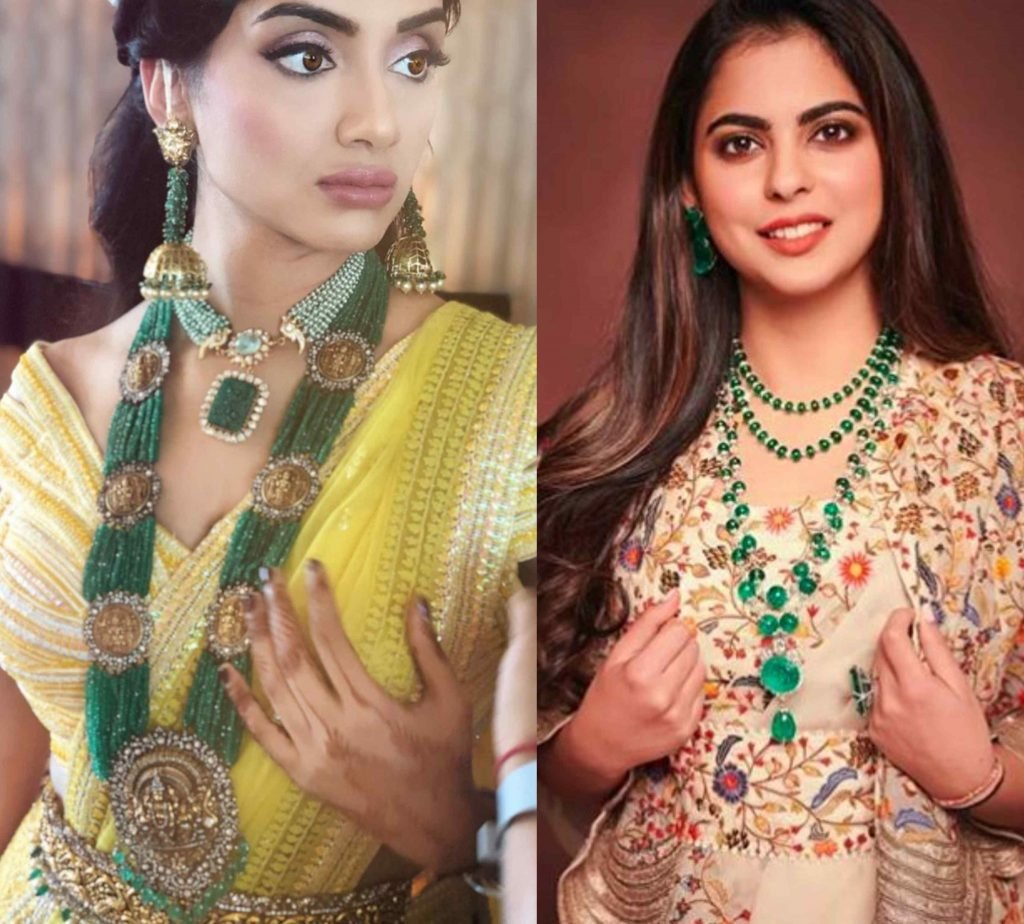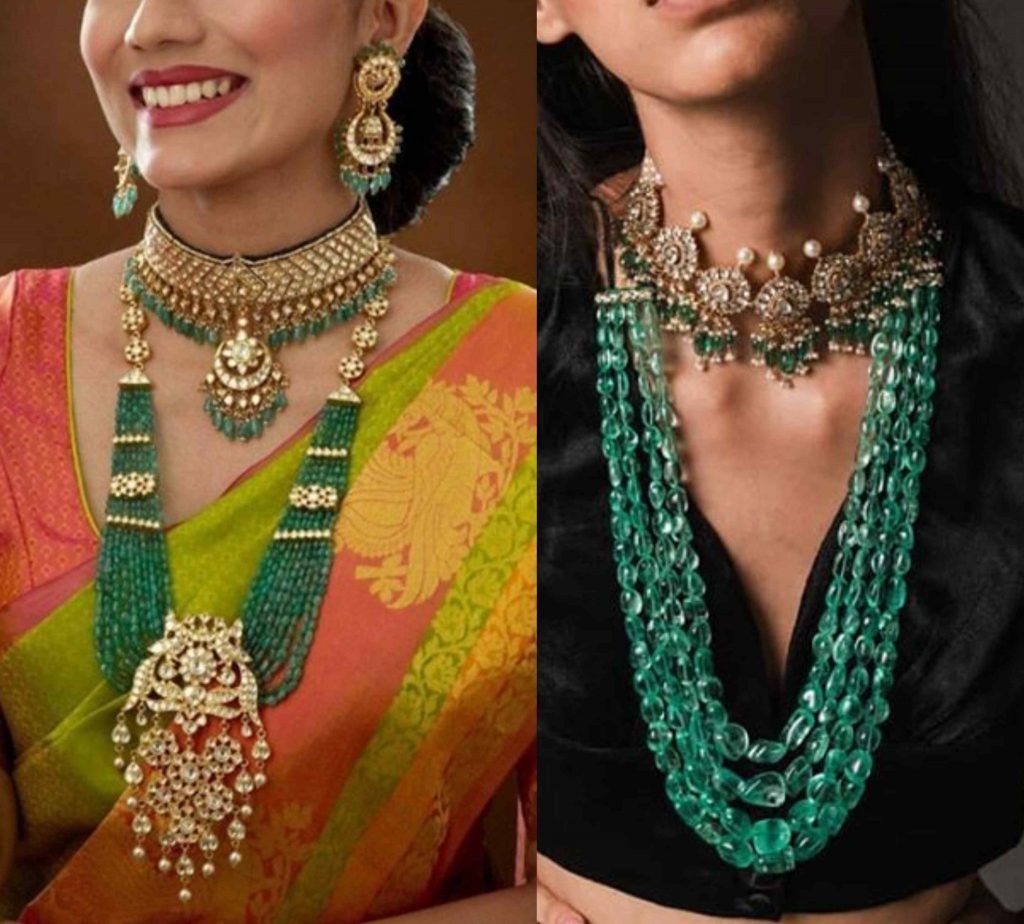 9. Statement Chokers
Who doesn't love a beautiful statement choker neckpiece? We've spotted innumerable brides sporting extravagant choker pieces and can we just say, they look stunning! A choker is a highly versatile neckpiece and can be worn with any type of outfit, even western wear.
The cascading elements in choker pieces so gracefully crown the necks of our beautiful brides, we are simply in awe each time we spot one.
10. Flower Jewellery
For Haldi and Mehndi ceremonies, more and more brides are opting for floral jewellery sets complete with floral neckpieces, earrings, floral maang tikkas and haath phools. These jewellery sets are one of-a-kind while also being colorful and vibrant. We think they look so fun and refreshing;a relief from conventional heavy jewellery.
Definitely recommend you to go ahead with this trend for your Haldi ceremony!
Amazon Best Buy Saree – Buy Now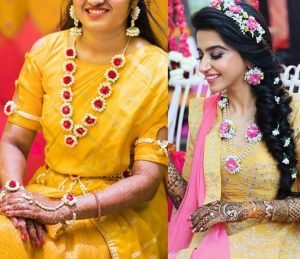 Follow Knotty Threadz on Instagram
Please Review Us On Google – Click Here