We hear you short-height beauties! We have got your blouse needs covered. You will find 7 Blouse Designs for Shorties here.
Being short makes the saree-wearing process quite tricky. The 9 yards should be worn perfectly for you to stay slim and look elegant. Any mishap will bulk up your look, and take your whole saree style to drain.
From choosing the right way of pleating the saree to picking up the right accessories, you need to show a bit more care for your saree style to stand out. One point where many fail to get the right checkmark is the blouse design.
If you are short in height, then you need to wise up and choose the blouse models that actually compliments your figure rather than submerse you in the overall saree look.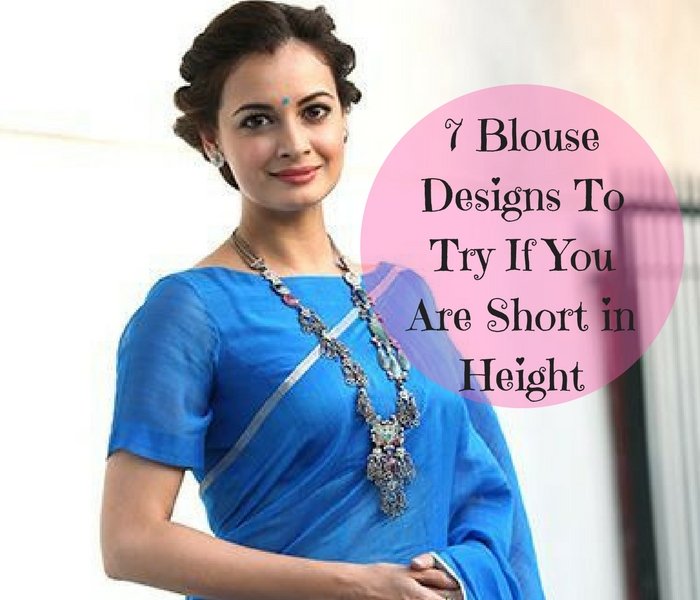 Yes, choosing a blouse for short-height girls can be a little daunting sometimes. You also need to cater to the additional factors like the type of saree you plan to wear, occasion, your personal style, weight …etc.
However, there are few classic blouse designs that are safe to assume will override these additional factors and in general, will flatter the short height girls.
We save you the pain of searching for those perfect blouse designs. All you need to do now is go ahead and scroll down to find 7 blouse designs that are fail-proof for short-height women.
Go for Short Sleeve Blouses
If your height is not in favor of you, then you need to play safe and skip any forms of exaggeration in your blouse. Forget about relaxed, loose-fit blouses which are only going to show you in out of shape. Go simple and choose a short-sleeved one.
These traditional model blouses are still going rounds in the fashion world. Own them for your saree. Because it is safe, and also beautiful.
Classic Sleeveless Blouses
Do you want to glam up your saree look without spending a bunch on fancy blouses? Then get a sleeveless plain blouse and wear it will your saree.
To make a statement, let the pallu of your saree float. With just a pair of jhumka and other apt accessories, you are, by all means, ready to steal the show.
Chic Collar Neck Blouses
Collar neck blouses are in trend for quite a long time. The good news is, it suits women who are short. Be defining your neckline with a shirt collar, this pattern will slim down your upper body thereby balancing your saree look.
If you have a designer blouse with you, take your hair for a bun so you can flaunt it with style.
High Neck Blouse with Half Sleeve
If you rather want to break all conventional models and try something out of the box, then go for high neck blouses that have attractive work around the neck.
High necks with half sleeves will leash out a classic style out of you. If you want to create a statement with your saree presence, then you have to give this option a try.
Check out our Blouse Designs – Designer Blouses By Knotty Threadz Boutique.
Boat Neck Blouses
To be frank, this blouse model is being coveted by all women without the difference of being short or tall.  Because it is incredibly beautiful when paired with the right saree. So, your height should not stop you from trying out this trendy model blouse anymore.
With boat necks, you can even try short sleeves, long sleeves,s or even go sleeveless. This neck can pull off anything. Literally.
Deep Front Neck with Long Sleeve Blouse
If you have a flabby arm, then this blouse model will look drop-dead stunning on you. A blouse with a wide front open and a long sleeve up to the elbow is a rocking combination.
You would have seen this combination being flattered by many Bollywood and our regional celebs. It is such a good-looking one for short ladies. If you want, you can even try three-fourths of the sleeves with this design.
Long Puff Sleeve Blouse Design
We can see you roll your eyes on reading the puff model blouse here. Many think that a puff blouse will actually bulk up your hands. That's quite true.
But puff blouse with a long flattering sleeve like the one below is altogether a different game. It is stylish, chic, and so on point. And it will definitely suit you, short girls!
These are our picks of 7 blouse designs that can save you short girls from a sorry saree day.  Pick the one that goes with your taste and begin your saree experimentation.
If you have other blouse designs in your mind, then do voice out your views in the comments box below. Because it could help other girls like you who are in deep search to get their saree style right.

Check out our 100 Saree Kuchu Designs – 100 Saree Kuchu Designs By Knotty Threadz Boutique